The Girl Who Stole an Elephant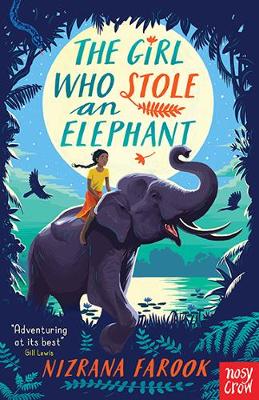 By Author / Illustrator
Nizrana Farook
Genre
Adventure
Age range(s)
7+
Publisher
Nosy Crow Ltd
ISBN
9781788006347
Format
Paperback / softback
Published
02-01-2020
Synopsis
Chaya, a no-nonsense, outspoken hero, leads her friends and a gorgeous elephant on a noisy, fraught, joyous adventure through the jungle where revolution is stirring and leeches lurk. Will stealing the queen's jewels be the beginning or the end of everything for the intrepid gang?
'The Girl Who Stole an Elephant is as rich, dazzling and alluring as a pouchful of royal jewels, and as triumphant as a trumpeting elephant! I loved it.' - Sophie Anderson, author of The House with Chicken Legs. 'A glorious fast-paced adventure through the jungle. I love Chaya's spirit and determination and the friendships that are built along the way. I feel I am there with Chaya and her friends. The Girl Who Stole an Elephant is adventuring at its best; a mystery, a jewel thief, and an escape into the jungle with an elephant at your side.' - Gill Lewis, author of Sky Hawk.  'The Girl Who Stole an Elephant positively rustles with the textures of rural Sri Lanka. It introduces an author keen to write a love letter to her culture, and upend preconceptions too More like this, please.' - Observer. 
Find out more about author Nizrana Farook
Reviews
Carol
Chaya is the village headman's daughter - and a thief. Yes, she loves the excitement and thrill of the chase, but she justifies her crimes because she always uses her spoils for good, stealing from the rich to give to the poor to pay for medical treatment, new clothes, food. However, while it's true that the King is an uncaring man who does little to help his subjects, maybe stealing the Queen's prize jewels, not to mention riding off with Ananda, the King's elephant, and freeing all of the prisoners in the palace cells, may have been a step too far even for Chaya...
Soon the young girl is on the run for her life, alone in the jungle except for her best friend, Neelan, and rich girl, Nour. While they have escaped the King's men for now, it's out of the frying pan and into the fire for the three children, who now have to contend with feeding themselves and finding their way to safety, while staying safe from jaguars, leeches and the bandits that roam the area. Their adventure has only just begun.
The Girl Who Stole an Elephant is a fast-paced, action-packed adventure, with clearly drawn relatable characters and a plot that never lets up. Historical rural Sri Lanka is deftly and evocatively drawn, offering up a whole new world and way of life for the reader to sink into. The short chapters, averaging five pages, and relatively simple vocabulary, make it an excellent bedtime read. All in all, The Girl Who Stole an Elephant is a great introduction to a debut author to watch, for readers aged 8+ with a taste for adventure and looking for a window into another world.
272 pages / Ages 8+ / Reviewed by Carol Carter, school librarian
Suggested Reading Age 7+
Other titles