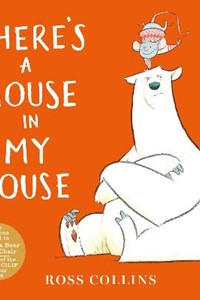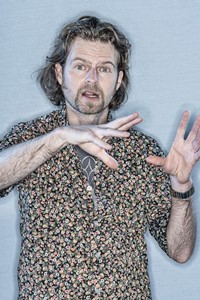 About Author
Ross Collins's primary 1 teacher, Mrs Spears, told his parents that he should go to art school. 13 years went by until he was finally 'old enough' to get into the Glasgow School of Art. Can you believe that? - 13 years.
On graduating he won the Macmillan Prize for his first picture book. Since then he's illustrated over 100 books for children and written a few of them too. Several of them have won enormous glittering awards which he keeps in a box in Latvia. Ross's book The Elephantom was recently adapted into a critically acclaimed play by those clever people at the National Theatre who made that War Horse thing.
When he's not creating children's books he enjoys working on character development for animation studios like Laika and Disney. He also likes walking in the Scottish glens with his dog Hugo, who is an idiot, and his partner Jacqui and son Ridley, who are not.
Interview
There's a Mouse in my House  paperback (Nosy Crow Books)
September 2021
From the creator of There's a Bear on My Chair comes a new picture book featuring the eponymous Bear and new and his not-so-welcome housemate, Mouse.  Like There's a Bear on My Chair, There's a Mouse in my House is driven by a battle of wills and, eventually, the acknowledgement that having friends isn't such a bad thing.
We asked bestselling author and illustrator Ross Collins to tell us more about creating picture books in this Q&A:
1. There's a Mouse in my House follows up your award-winning picture book, There's a Bear on my Chair. Can you tell us what inspired your first book, and why you wanted to follow it up?
'There's a Bear on My Chair' came entirely from the rhyme. I fancied doing a book about bears and started to think of what rhymed. As soon as I thought of the line 'There's a Bear on My Chair' I had my book.
Originally I saw it as a stand alone book but over the last five years so many people have asked me when 'There's a Mouse in My House' was coming out that I started thinking about how it could work. It took me a while to come up with a rhyme and structure that I really liked - I didn't want to rush into a sequel, but eventually I came up with something that I thought was a lovely companion to the first book.
2. Were you pleased to bring the characters back together again in There's a Mouse in my House? Can you tell us what happens this time?
I was delighted to work with them again. The mouse and bear are kind of empty canvases that I could do anything I wanted with. I really enjoyed reversing the roles and changing their body languages. It felt like a nice way to balance it with the first book. This time it's the mouse that is the unwelcome visitor but I won't tell you how it's resolved...
3. Was Bear always going to be paired with Mouse?
No, actually! The bear was originally paired with a wee boy called Dave! That was so I could have the final line 'There's a Dave in my cave!'. After a while it seemed like a better idea to pair the bear with another animal - it had to be small and eventually I settled on a mouse. Much as I loved Dave I think it was the right decision. Sorry Dave.
4. How well do you need to know your characters before you start to write your picture book stories? Do you have a 'Bear' or a 'Mouse' in your life?
My characters develop as I'm writing and then drawing. By the time I'm two thirds of the way through drawing a book I've got to really know my characters and then have to go back and adjust the earlier drawings. I think everyone has a bear and a mouse in their lives. Kids especially know someone who likes teasing them just for fun.
5. How much do you practice drawing your characters before you start illustrating your texts?
Occasionally the first drawing you do nails it as you've had the character jumbling around in your head for months. Usually I develop the characters for a while initially but then the real development comes when you start to do the roughs. That's why I hate being asked to do character sketches by publishers because you know they'll never end up looking the same at the end.
6. Does drawing your characters help you to write the picture books? Do you enjoy writing rhyming text?
I find writing and drawing to be quite separate. I really have to nail the text completely before I can start to draw. The text needs to be as good as you can possibly make it. The drawings are all in my head at that point.
I do enjoy writing rhyming texts, there's a satisfaction to be had from getting the flow and working within the restrictions of a single rhyme. I'm pretty good at it but my editor at Nosy Crow, Louise Bolongaro, has a much better understanding of what makes a perfect rhyme. Sometimes what I write will sound perfect to me but Lou will very kindly explain to me why I'm wrong. I can loath her for it but she's always right and her input always makes for a better text.
7. How do you create your images for the finished books?
I still love to work with real art materials. Computers are amazing but I feel that working on paper gives a spontaneity and humanity that resounds with readers. I paint all the images in watercolour and then add the line in charcoal pencil. When a book calls for a flat background colour I'm happy for that to be added in photoshop afterwards. That way you can easily play with the background colours and settle on a combination and flow that really works for the book.
8. Do you have a favourite spread in There's a Mouse in my House?
It's hard to pick a favourite - I really enjoyed working on them all. I loved drawing the mouse wearing a flamboyant outfit to counter the bear's leisurewear from the first book. I gave him big banana boots as a nod to Billy Connolly - one of my favourite human beings. I also really enjoyed drawing the paintings that mouse hammers up onto bear's wall. One is of a piece of cheese done in the style of Vincent Van Gogh, the other a mouse portrait done in the style of Warhol. That tickled me..
9. Do you plan to get Mouse and Bear back together again?
I doubt it. These two books seem to make a nicely balanced pair. But never say never.
10. Where do you create most of your books? What are you working on now?
I work from home which has been handy in Lockdown. I have a corner 'studio room' in a top floor tenement flat in Glasgow with great light and a view over the city. I'm lucky - it makes me feel like I'm outside while I work.
I've been working on two new picture book editions of Alice's Adventures in Wonderland and Alice Through the Looking Glass to celebrate their 150th anniversary this year. It's been daunting respecting all that's come before while trying to put your own stamp on it but I'm loving it and it's always an honour to be asked to redraw a classic.
11. What are your favourite escapes from your studio?
I'm looking forward to going back to the cinema and swimming pool with my son. Until that lovely day I enjoy working on an off-grid hut we have just North of Glasgow. Spending most of my time at a desk meticulously drawing and painting things, it's tremendously therapeutic to regularly bang rusty nails into big bits of wood...
Author's Titles