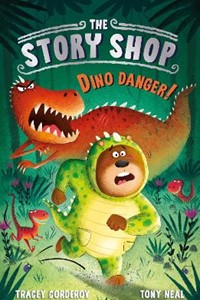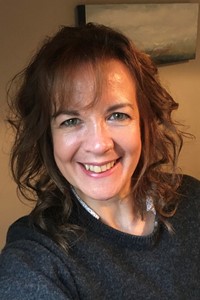 About Author
Tracey Corderoy's new Shifty McGifty and Slippery Sam adventure, The Stolen Sleigh, has just been published, illustrated by Stephen Lenton.
Tracey grew up in South Wales, on a council estate firmly sandwiched between the steel and chemical works.
She's a trained teacher, but now writes full-time in an old damp cottage in a valley in the woods. A multi award-winning author, her first book was published in 2010, and her 72nd book in October 2021.  
www.traceycorderoy.com  /  Twitter: @TraceyCorderoy
Interview
The Story Shop: Dino Danger (The Story Shop, Book 3 - Little Tiger Press)
March 2023
The Story Shop takes its customers on very special adventures, and in The Story Shop: Dino Danger, a rather shy young bear finds himself whisked away to the land of dinosaurs! The Story Shop books, for readers who are developing confidence in reading, are a brilliant introduction to story writing and composition. 
Find out more about The One Stop Story Shop picture book and young fiction books for growing readers (ages 5+):
The One-Stop Story Shop Picture Book   The Story Shop: Blast Off  The Story Shop: Anchors Away  The Story Shop: Dino Danger

The Story Shop: Teaching Resources: for Writing, Composition and Learning about Friendships
Author Tracey Corderoy tells us what happens next in The Story Shop: Dino Danger, and gives a short reading from the story!Q&A with Tracey Corderoy
1.   Can you tell us what the 'Story Shop' is, and what inspired your first Story Shop story?
The Story Shop is a magical shop that sells stories that a customer can actually BE in with real characters they'll actually meet. Shopkeeper, Wilbur, has props and plots galore and his assistant, Fred Ferret, goes on the story adventures too!
I was interested in what happens when you need to find 'the right' characters for your story. What if you can't have the character you want? This happens to Mr Knight in the picture book (The One-Stop Story Shop) that inspired the young fiction series. Mr Knight demanded the usual dragon he always had story adventures with. Except this said dragon had, most inconveniently, 'gone on holiday for some me-time' so Mr Knight - reluctantly - had to settle for a ferret instead. Eventually, and rather to his surprise, he realised that Ferret was like a breath of fresh air that invigorated his story adventures no end. Hurrah!

2.   Why did you decide to write a series of Story Shop stories for young readers? What will keep them turning the pages?
I wanted young readers to be creative in their writing. Teachers were telling me they wanted this for their pupils too. This series really boosts creative thinking as the Story Shop customers shape their own adventures, making choices and taking calculated risks along the way. And sometimes the risks aren't quite so calculated which makes for jeopardy and humour, which will hopefully keep readers turning the pages. You literally never know what's going to happen next. It's nail-biting stuff and really funny too!

3.   What is the thread that runs through each of the stories - Blast Off!, Anchors Away and Dino Danger?
Each customer will be supplied with a costume, various props and a travelling companion in Fred Ferret. The theme of their three stories will be really carefully picked for them by the shopkeeper, Wilbur. It will allow them to test themselves and learn about themselves along the way. Sometimes, though, the customer will learn from making quite ridiculous/hilarious mistakes until they start to work things out. Whilst most of the customers finally learn about themselves and carefully start to shape their adventure's outcome, there are one or two who literally make the same mistakes over and over again! (Ahem - Mouse!)

4.   How would you use these books with children to encourage them in creating their own stories?
I love using the themes in the stories creatively whether that's taking quizzes, solving puzzles, setting up a story shop in the classroom and creating magical shop drawers of our own filled with characters, props, and plots chosen by the children. We have a number of brilliant teaching ideas for 'Blast Off!', too, done by the fantastic Little Tiger team. Just drop by their website to start story shopping!

5.   What happens in the latest Story Shop book, Dino Danger!
Poor shy Bear! He's not sure if he even wants an adventure because he feels so unsure of himself. He doesn't like noise, danger or making choices, so what does Wilbur give him? All three that's what - in a totally ROARsome Dinosaur adventure!
"Stop shaking Bear or be eaten by a dinosaur!" whispers Fred at the start of the adventure. Bear obviously shakes even more - because that off-the-cuff speech from Fred requires him to make a DECISION. Uh oh!  During the course of the three stories, though, Bear really starts to step up to the plate. Better than being ON a dinosaur's dinner plate, right? Needs must . . .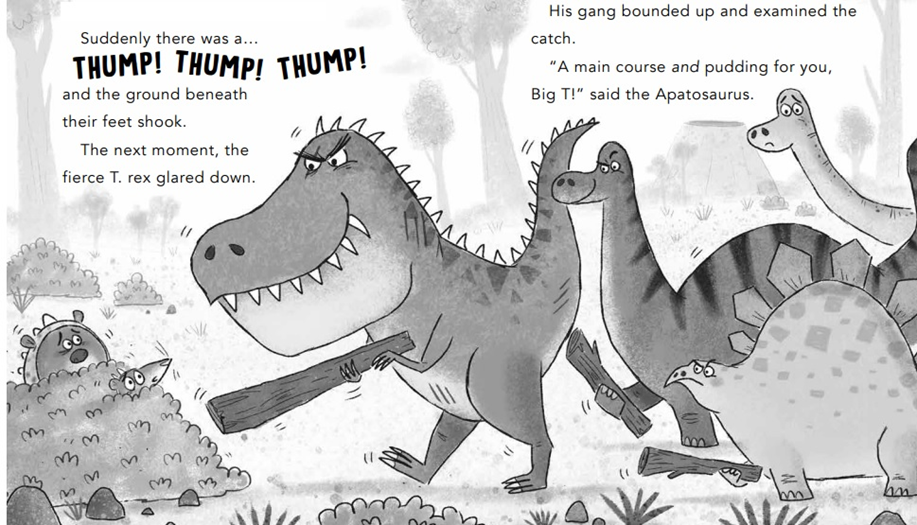 6.   Why did you want to have dinosaurs in this story - and a 'hero' - Bear - who is scared of them, and everything else!
The best stories torpedo buckets of problems at your characters they then have to get sorted - or fail. Dangerous dinos and a scaredy Bear makes for really 'on point' problems as well as giggles galore. I also wanted to show the reader that even the most shy and unsure among us can be heroes if we, somehow, summon up the courage to have a go.

7.   Do you enjoy having characters - like the young dinosaurs in Dino Danger - who are a bit on the bad side?
I love it! The more mischievous the better. I love pushing my characters to their absolute limits - the good characters and the bad ones alike. It's so much fun. If you're going to do naughty characters, do REALLY naughty I say!

8.   What do you think of the illustrations by Tony Neal? Any favourites in this story?
I think they're sensational, brimming with energy and humour. Bear's expressions of horror and disgust are great! I particularly love his expression on page 77 when, for the first time - possibly ever, he actually makes a decision without even thinking about it. He's so proud of himself, and terribly surprised. I'm so proud of him too. 😊

9.   Do you have more Story Shop stories planned?
Yes we do! In fact, I'm just about to start writing the next. Like a clue about the theme? Well, I'll just say there'll actually BE lots of clues in this next book, so … work it out!

10.   What do you enjoy doing when you're not writing stories?
Crafting, gardening, playing with my dog and spending time with my family.

More about Tracey Corderoy....
i.   If you could enter your own 'perfect story' through the Story Shop, what would it be about and what setting would you want?
I think I'd like to dive into a fairytale and change things up a bit. Naturally the fairytale characters would resist. What fun!
ii.   If you could have a magical ability, what would you choose?
I think flying would be wonderful. I would choose to fly with the long-tailed tits who come fluttering to my bird feeder in the garden. I'd then follow them to all the other places they frequent throughout the day. They are my all-time favourite bird as they're SO friendly. But I'm very partial to pigeons too. True fact.
iii.   If you could have one wish, what would it be?
I would wish for fairness and kindness to motivate and guide us.

Author's Titles