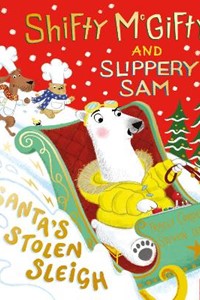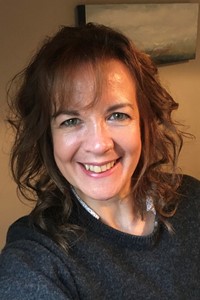 About Author
Tracey Corderoy's new Shifty McGifty and Slippery Sam adventure, The Stolen Sleigh, has just been published, illustrated by Stephen Lenton.
Tracey grew up in South Wales, on a council estate firmly sandwiched between the steel and chemical works.
She's a trained teacher, but now writes full-time in an old damp cottage in a valley in the woods. A multi award-winning author, her first book was published in 2010, and her 72nd book in October 2021.  
www.traceycorderoy.com  /  twitter.com/TraceyCorderoy
Steven hails from Cheshire and now works from his studio in Brighton, creating an array of charming characters for his books.  As well as illustrating the Shifty McGifty series, written by Tracey Corderoy, he has illustrated many lovely books and wrote his first picture book with Nosy Crow, Princess Daisy and the Dragon and the Nincompoop Knights.   Steven also loves to visit schools, festivals and bookshops, encouraging and inspiring his audience to draw, giggle and create! More information about him and his work can be found at stevenlenton.com.
Interview
Shifty McGifty and Slippery Sam and the Stolen Sleigh (Nosy Crow Books)
November 2021
Look out for this fabulously Christmassy picture book from Shifty McGifty and Slippery Sam in which the baking duo have lots to prepare for Christmas - and a special friend in Lapland to help out! 
Watch the video to find out what inspired Tracey Corderoy to write the original Shifty McGifty and Slippery Sam book, and to enjoy a reading from her new picture book, Shifty McGifty and Slippery Sam and the Stolen Sleigh. You can join illustrator Steven Lenton for a draw-along further down this page!
Q&A with Tracey Corderoy
1. What is your new Shifty McGifty picture book about?
It's about Christmas! Shifty and Sam are off to help Santa Paws in Lapland. But the boys get more than they bargain for when a certain 'helpful' polar bear snowmobiles in, determined to 'help' too. Hmmm…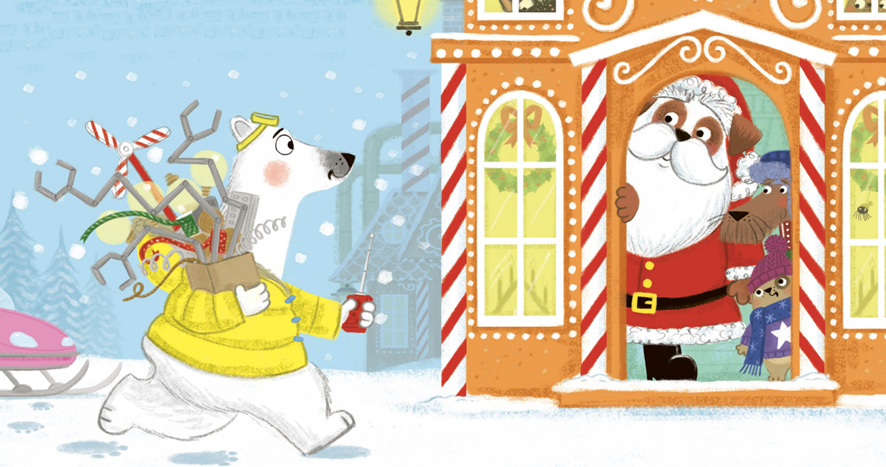 2. It's a great Christmassy theme - what do you love the most about Christmas?
I love just being altogether as a family. We play games and have log fires and it's great to eat chocolate EVEN for breakfast if we like!

3. Do you enjoy coming back to your Shifty McGifty characters?
Yes, immensely - they're like old friends to me now. I'm always so happy to be planning new adventures for Shifty and Sam.

4. Why do you feel the Shifty McGifty books have been so popular?
I think children relate to making mistakes and sometimes just not thinking about what we do until it's too late. I also think they like that Shifty and Sam 'work on being better' in the future. They're daft dogs too and are very cute to look at. Steven has done such a fabulous job on creating a marvellous visual world.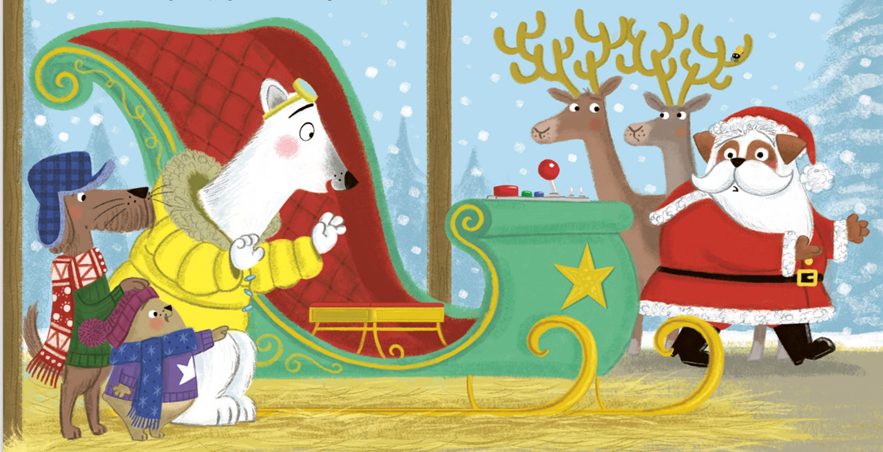 5. Do you have a favourite Shifty McGifty adventure?
Hmm, a favourite adventure, well I think it has to be The Cat Burglar as Kitty Le Claw is so great to write for as she's a real stinker! It also goes without saying that the original story will always hold the most special place in my heart though.

6. How long does it take you to write a Shifty McGifty picture book?
It's difficult to say how long each book takes because there are many edits. A good few months on the text maybe and then more time when the art is integrated. It's a real team effort but we love each journey! The rhymes are very tricky because they have to be in the right register for the age group. They can't be too tricky and they must appear to just flow. This takes much paddling beneath the surface though for everything to finally appear smooth.
I plan the stories on the basis of what would make a fast, pacey adventure irrespective of it being in rhyme or prose. You can't be confined about what you feel you can 'only' write in rhyme.  I mostly write about what I like and set it where I like, although sometimes locations might be suggested to me - like Paris, if I remember rightly, as a backdrop to The Missing Masterpiece story.

6. Can you also tell us a little about your Shifty McGifty young fiction readers? Do you hear from your picture book fans who move on to these?
Well, the young fiction is fast and fun - three stories that speed along - written in prose and centred around Shifty and Sam having all sorts of adventures, catching baddies or solving mysteries. The art has a lead colour - so tones of that shade as well as black, white and various greys.
And yes, I do hear from picture book fans who have then gone onto love the young fiction and that's tremendously satisfying.

7. How do you work with Steven Lenton on the illustrations?
Steve does roughs after I deliver the text and then I see how they 'are sitting' within what's written. He then might make various changes in rough form and finally, when everyone feels its all working, Steve will move onto coloured artwork. It's always very exciting when I visually 'meet' my latest new baddie for the first time as hitherto they've been solely in my head for so long…
Here's a fun draw-along with Steven Lenton, where you can learn to draw Santa Paw's elves!
8. Do you have a favourite spread from the new book?
Yes, I do, although they are all so beautiful. My favourite, however, is the Santa setting off to deliver the presents spread. The sky is dark, the stars are twinkling and that spread, for me, embodies the breathtaking excitement of Christmas Eve as you sense that magic is just a sleighbell away. It's simply glorious!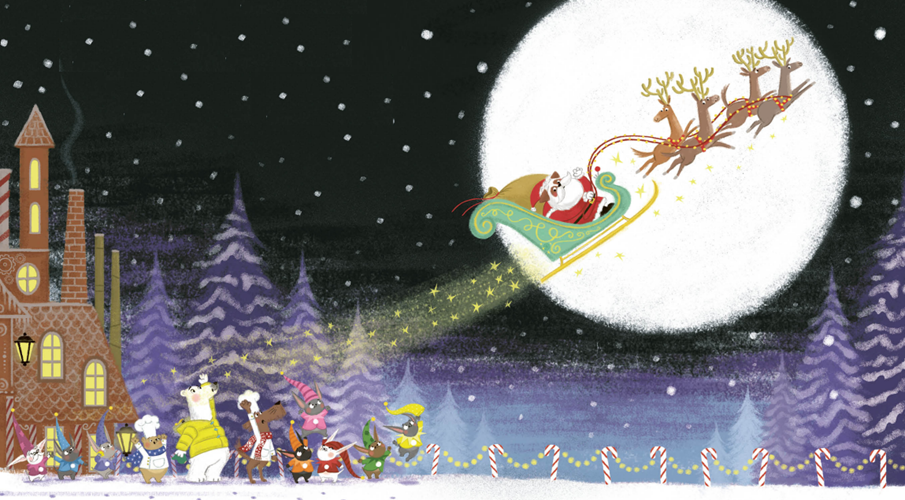 9. What are you looking forward to this Christmas? What would you like Santa to drop off for you from his sleigh, now that he has it back?
I'm looking forward to getting together as a family again, to cosy log fires and maybe to trying a new kind of soup I've asked my husband if he wouldn't mind trying out. He's the chef in our house, you see! Oh, and as for a gift - well I've loved the birds in my garden lately so a little Whitethroat figurine would be perfect. Is that too specific? Oh well - I have every faith in Santa! Ha ha!

10. Where and when do you prefer to write? What are you writing currently?
I like to write mostly in my study in my old cottage. My dog, Brodie Bear, and I close the doors to stay snugly and we spend many a happy hour in there. I then read him the stories I write and he looks interested - although I do think he humours me sometimes to get it done and then, of course, it's walkies and dins-dins, which he adores…

11. What are your favourite escapes from your desk?
The garden at the moment and I love the sea. I used to live by the sea as a child but right now I'm loving being in the woods where our cottage is. I had three robins I fed regularly for months last year. Scruffy was the original - he was very thin and bedraggled when he first took up residence. Then Toughy joined him and was the opposite; big and feisty. Finally, Fluffy appeared at the end of the year. Now he was round and pom-pom-like.
I now have a resident squirrel, too, who finds the nuts, nicks the nuts, buries the nuts, digs up the nuts - along with the tulip and daffodil bulbs. But I love him!
Author's Titles