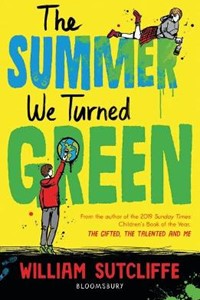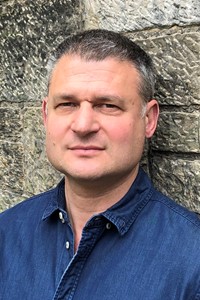 About Author
William Sutcliffe's The Gifted, the Talented and Me is a rare funny book for teenage readers and his latest novel, The Summer We Turned Green, will also have lots of appeal for this age range. 
He has written 13 novels, including the international bestseller Are You Experienced? and The Wall, which was shortlisted for the Carnegie Medal, and he writes for adults, young adults and children. 
Read a chapter extract from The Summer We Turned Green
Interview
The Summer We Turned Green (Bloomsbury)
July 2021
William Sutcliffe's latest novel for teenagers, The Summer We Turned Green, explores serious themes, particularly climate change, but it's also about families and friendship, responsibility and taking care of each other. It is also very, very funny and is bound to find a receptive audience among teenage readers.  We asked the author to tell us more about what inspired his book.
Q&A with William Sutcliffe
1. Can you tell us about your new book, The Summer We Turned Green?
This novel was inspired by my children, and specifically by the way they were in turn inspired by Greta Thunberg's school strike movement. It's about how, for the young, the battle for climate justice isn't an abstract or intellectual one. They feel in their hearts, passionately, that this is their own future they're fighting for.
But this isn't an angry or depressing dystopian novel. This is about climate activism. It's the story of a teenage girl who runs away from home and moves into a climate protest camp, and how this impacts on the lives of her younger brother and her parents. It's a funny and serious look at personal and global responsibilities. It's about how doing the right thing for the planet can seem like selfishness to your family. And at the heart of it is a moving friendship between a suburban 13-year-old boy yearning for excitement, and the commune-dwelling daughter of a lifelong protester who is yearning for domesticity.
At first, it seems unlikely that these two could ever become friends. The real surprise is how they find themselves at the heart of a headline-grabbing climate protest, in the eye of the media storm, with millions around the world hanging on their every word.

2. If you could choose a couple of words that sum up the book for you, which would you choose?
The two things that I always hope to bring together in my writing (and, ideally, in the books I choose to read) are humour and seriousness. I very much believe that these two aren't opposites. Serious points can be made through humour, and, indeed, using humour grabs people's attention and opens them up to ideas they might otherwise reject. There's nothing more serious than the topic at the heart of this novel - climate change - but I hope the book is as entertaining as anything else I have written.
3. Was there one incident or something you read that helped to spark the idea?
Impending global doom.
4. Are any parts of the book based on things that have happened in your own family?
Watching my children take part in the school strike movement had a big impact on me. I was struck by how this fight feels different for that generation. The knowledge that they are going to live though very serious consequences in their own lifetimes unless major societal change takes place has clearly given an urgency to the challenge that is brilliantly articulated by Greta Thunberg. I feel that this generation has taken a new kind of ownership of the issue, and that's hugely powerful and significant. I just pray that the older people with their hands on the levers of power listen to what the young are saying.
5. The Summer We Turned Green is very funny - Do you laugh while you're writing? What made you laugh the most?
I definitely smile when I'm writing a funny scene, but I don't think I've managed to make myself laugh out loud. My favourite thing to write is dialogue, especially family arguments. One of my favourite lines (which probably doesn't make sense out of context) is, "I'm not not talking to Mum. It's Dad I'm not talking to."
6. Although The Summer We Turned Green is very funny, it's dealing with serious issues. How much research did you need to do into environmental protesting to write this?
It's something I've been interested in for a long time, so a lot of the research for this book was done before I had any idea I was going to write it. I did enjoy learning new things about the techniques used by modern, media-savvy protesters, though, and also learning about the history of the road protest movement in the UK, which was a precursor to a lot what is happening today.
7. Have you ever been involved in a protest of any sort?
I've been on a few marches, but I've never chained myself to a tree or glued myself to a building, I'm sorry to say.
8. The book also explores a family that is falling apart, through the eyes of a teenage boy, Luke. Did that make it more difficult to write?
The slow-burn family meltdown was actually the key to making the book come together. In early drafts, before I had brought that into focus, everything felt a little too diffuse. Bringing together the public story of the protest with the private story of a family at the heart of it is very much what makes the book work as a novel.
9. You also explore the differences between the communities of environmentalists, and families who live a more traditional life. Which camp would you prefer to be in?
There's definitely something of me in the Dad - living a relatively conventional life while slightly daydreaming of chucking in all responsibilities and doing something crazy in pursuit of a higher meaning.
10. Who is your favourite supporting character in the book?
Definitely Sky. She was a joy to write. I became more and more fond of her the more I wrote. I particularly like her mixture of naivety and wisdom, and her total openness.
11. Do you plan to revisit Luke and his family? What are you writing now?
I don't think a sequel to this book is on the cards, and I never talk about books I haven't finished, mainly because I often start things and don't finish them when I learn that they don't work.
12. When and where do you do your best writing?
If this book is a success, my answer to that question will have to be, "In snatched hours hiding in the least noisy parts of the house in between bouts of inept attempts to home-school during a catastrophic global pandemic". I'm hoping my next book is written a different way.
13. What do you do to relax when you're away from your desk?
I've played the piano badly for years, but during the lockdowns, feeling like I needed a way to engage myself in something that made me forget everything else that was happening in the world, I began to take it more seriously. So for over a year I've played every day for around an hour and I absolutely love it. When you reach the point where you can play the kind of music you'd actually choose to listen to, it becomes totally absorbing and addictive. The only downside is that it sometimes makes my wife want to murder me.
Author's Titles