A Flying Visit (A Percy the Park Keeper Story)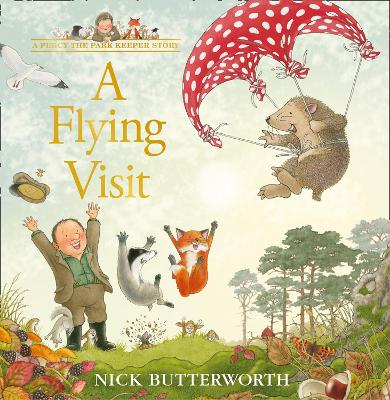 By Author / Illustrator
Nick Butterworth
Genre
Picture Books
Age range(s)
3+
Publisher
HarperCollins Publishers
ISBN
9780008455620
Format
Hardback
Published
11-11-2021
Synopsis
An exciting new picture book about much-loved Percy the Park Keeper and his animal friends from the bestselling creator of One Snowy Night.
Percy's friend the hedgehog has always longed to fly but without wings it's an impossible dream. Until, one day, a stranger arrives in the park, needing the hedgehog's help. Will his wish come true at last?  A funny, heart-warming story about kindness, friendship and teamwork, introducing the phenomenally popular Percy the Park Keeper to a new generation of readers.  Includes a surprise fold-out page!
Percy and his animal friends have delighted readers around the world for over thirty years!
Reviews
Sharon
Percy the Park Keeper is a firm favourite with our children and this new story, A Flying Visit, was anticipated with great enthusiasm by our little ones. The children loved the surprise fold out page and it led to us making some investigations of our own, using handkerchiefs and a variety of bags. We had great fun and had lots of scientific discussions.
When we revisited the story, the children showed real empathy for Carla, the seagull, although they found it tricky to work out why she didn't want help from Percy. We came to the conclusion that she was confused after hurting herself.  Another super story from the pen of one of our favourite authors. 
Picture book / Reviewed by Sharon Porter, teacher
Suggested Reading Age 3+
Other titles