Agent Zaiba Investigates: The Poison Plot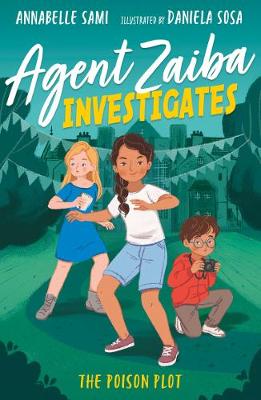 By Author / Illustrator
Annabelle Sami, Daniela Sosa
Genre
Mystery & Detective
Age range(s)
7+
Publisher
Little Tiger Press Group
ISBN
9781788952071
Format
Paperback / softback
Published
23-07-2020
Synopsis
Determined to be the world's greatest detective, Zaiba is always on the lookout for a crime to solve! Zaiba can't wait for the school summer fair where she's going to run a detective trail to help train other potential agents! But when the head teacher is poisoned during the highly competitive cake competition, Zaiba's own skills are put to the test. With a whole host of suspects and a busy crime scene, Zaiba needs to stay focused if she's going to get to the bottom of the cake catastrophe... The second book in a fun, fresh and exciting new detective series, for fans of Robin Stevens, Katherine Woodfine, HIGH RISE MYSTERY and NANCY DREW.
Reviews
Ashin

- Age 10
This is a great sequel to the first book, which I loved as much too (if not even more). It all fitted together and I really felt as if I was in the book itself. It really helped to find that inner detective in me and, midway through the book, a little bit of hunger! It was really funny and I loved it.
Suggested Reading Age 7+
Evie

- Age 10
Zaiba and Poppy are enjoying planning the treasure trail at the summer fete. Meanwhile, Hassan and Ali are baking in the baking contest. Suddenly, they hear a scream which leaves Zaiba, Poppy and Ali teaming up with their arch-enemy - Marian - and investigating. Book in three words: Suspects, cupcakes and friendship.
Suggested Reading Age 7+
George

- Age 10
After reading the first instalment of the series I was nervous that this book what not be as good. However, it lived up to my expectations and was even better than the first one. I think the reason I found it more enjoyable because the mystery they were investigating, the poison plot, was more exciting and tense. It was nice that it wasn't just the same characters again and there were some different people as well as the originals to get to know, such as Mariam. The reason I choose to describe this character is because she was in the first book but she changed and became a little less mean in the second book and wanted to help her cousin - Zaiba - in her investigation. I rate this book 5/5 and recommend it to anyone who fancies solving a mystery.
Suggested Reading Age 7+
Noel

- Age 10
Agent Zaiba is a detective story based on a girl called Zaiba. Everything seems good at the summer fete until a mystery emerges at the baking competition. Will Zaiba, her best friend (Poppy) and her little brother (Ali) uncover who is the cupcake poisoner?
Suggested Reading Age 7+
Other titles