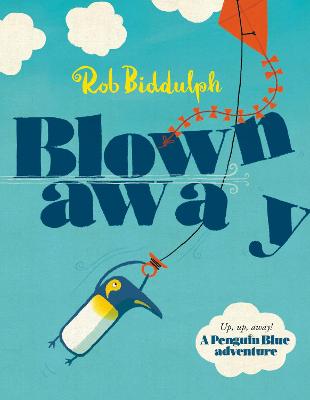 By Author / Illustrator
Rob Biddulph
Genre
Picture Books
Age range(s)
3+
Publisher
HarperCollins Publishers
ISBN
9780007593828
Format
Paperback / softback
Published
29-01-2015
Synopsis
Meet a fearless blue penguin on an unexpected journey, from the bestselling Rob Biddulph, creator of the internet sensation #DrawWithRob!
Meet Penguin Blue, in this Waterstones Children's Book Prize winning tale!  It's a windy day, and he has a brand-new kite - but where's he going on this maiden flight?
Penguin Blue and his friends go on a gloriously illustrated adventure full of good ideas, homesickness and the perils of kites, from the bestselling and multi-award-winnning Rob Biddulph, creator of the internet phenomenon Draw With Rob. As seen on YouTube, FaceBook, Instagram, CBeebies and TV news everywhere!
Reviews
Class
Jack (aged 7) The book is about a penguin, a seal and a polar bear that go on an adventure on a kite. I think that I would recommend this book to somebody that has a sense of humour, because it is a funny book!
Francesca (aged 7) This book is about a penguin who flies away with other animals into the jungle. I like the details in the pictures (like where the whale is the school bus!). I think that younger children would like this book, for their parents to read to them. I think they would like it because it has lovely pictures in it but tricky words so their parents should read it to them!
Bella (aged 7) Blown away is about a group of animals who get blown away on a kite and have an adventure in a place far away. The illustrations in the book are very good with lots of detail, they are probably my favourite part of the book along with another part that I can't share without spoiling the plot! I like the way that some of the text is written to join in with the pictures, like 'WOOSH!' coming out of the elephant's trunk! I would recommend this book to animal lovers all over the place!
Freddy (aged 7) Blown away is about a penguin who tries to fly a kite on a very windy day and gets blown away. His friends try to save him, but they get blown away too! My favourite bit of the book is the start when the penguin flies the kite and gets blown away because I like flying kits too! I would recommend this book for 6 year olds because I think they would find it funny.
Lucy (aged 8); This book is about animals that go on an adventure, it is very funny! My favourite bit was when the other penguins go to school on a whale! I think that 5 year old girls would like this book, especially my cousin because she likes animals! It has hard words for little children but their parents could read it to them.
Florence (aged 7); Blown away is a very interesting book for animal lovers. This book is about a penguin called Blue who gets blown away by a kite and two other penguins try to stop him but end up flying too! Join Blue's adventures with all his arctic friends and see where they go! My favourite bit was when Clive the bear got blown away as well! I recommend this book to adults or older children to read to younger children because they will fill with laughter!
Suggested Reading Age 5+
Lizi
This book is beautiful to look at; the cover is simple but intriguing, my class and I all couldn't wait to start reading it! My class of 7/8 year olds easily followed the plot of the story, and enjoyed the rhyme scheme, which was captivating but not repetitive! The story itself is humorous and original.
Blown away is a rhyming book; this makes it flow easily and the small amount of text on each page makes it quite accessible to a range of readers. The main barrier of this book is that it has quite a few words that are quite advanced and the children needed explaining to them. This is a unanimous theme from discussing the book with them, most agreeing that it's a great book which is amusing but adults should read it to children to make sure they can understand it properly. We all agreed that the illustrations in the book are brilliant; turning each page and watching their faces was quite a treat, each child was captivated, looking for the funny little extra details that are on every single page. These are entertaining and great for building those inference skills too!
This is an enchanting books for adults to share with children, it would be a lovely present for most children - the humourous animals appealing to most!
Suggested Reading Age 3+
Other titles