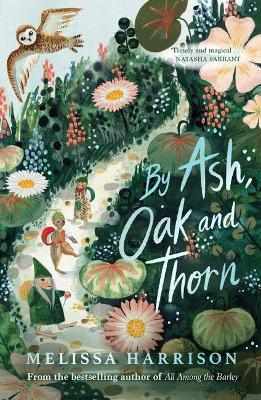 By Author / Illustrator
Melissa Harrison
Genre
Environment
Age range(s)
7+
Publisher
Chicken House Ltd
ISBN
9781913322120
Format
Paperback / softback
Published
06-05-2021
Synopsis
Three tiny, ancient beings - Moss, Burnet and Cumulus, once revered as Guardians of the Wild World - wake from winter hibernation in their beloved ash tree home. When it is destroyed, they set off on an adventure to find more of their kind, a journey which takes them first into the deep countryside and then the heart of a city. Helped along the way by birds and animals, the trio search for a way to survive and thrive in a precious yet disappearing world ...
The breathtaking children's debut from acclaimed nature writer and literary fiction novelist, Melissa Harrison, author of All Among the Barley and At Hawthorn Time: shortlisted for the Costa Book Award and longlisted for the Baileys Prize. Inspired by 1942 classic The Little Grey Men by BB, with shades of The Borrowers. A tale of disappearing wilderness that couldn't be more relevant in today's environmental crisis, brought to life for children by three tiny, funny, eternal beings - the hidden folk.
Q&A with author Melissa Harrison
Reviews
Kelly
Reminiscent of The Borrowers, this immersive read about the Hidden Folk living in plain sight all around us is brilliant. Each chapter has an epigraph at the beginning, bringing this nature-filled adventure to life.
Cumulus, the oldest of the trio, wakes one morning to find he has started fading. Startled by this revelation and scared of change, Moss wants everything to stay the same forever. Burnet, a realist, knows this can't happen so together they venture from their home in the ash tree to find their cousins over in the Folly Brook. With the help of their wildlife friends, the trio set off into the unknown to find answers.  Instead of finding their cousins, guided by the stars, wildlife and birds, the trio realises they must travel much further than anticipated to The Hive, a noisy, bustling metropolis filled with a multitude of dangers, and home of the mortals.
By Ash, Oak and Thorn is a stunning story about friendship, change and paying attention to our surroundings. A tale of co-existing with nature, of not taking it for granted and opening our eyes to the possibilities that lay beyond.
256 pages / Reviewed by Kelly Buxton, teacher
Suggested Reading Age 9+
Bryony
By Ash, Oak and Thorn is full of the wonder of nature and the environment. Explore the world from a different perspective and join three funny and caring beings on their adventure.
In By Ash, Oak and Thorn, the reader joins three ancient beings - Hidden Folk - on a wild adventure spanning seasons and the British countryside. Moss, Burnet and Cumulus are forced to leave their Ash tree home following a storm. In search of relatives, they must travel to unknown places, first through the deep countryside. The Hidden Folk cannot be seen by humans but they are helped on their way by birds and animals. Travelling through different landscapes and into the urban, the beings have to find ways to survive.
Melissa Harrison has included much of the natural world in her beautiful writing. The reader has the opportunity to learn about plants, trees, birds and animals as well as folklore linked to nature. Her writing breathes life into the landscape and characters, inspiring readers to explore their surroundings. A joy to read, full of escapism and wonder with some inspiring ideas and characters. Recommended for children aged 7 and up.
256 pages / Reviewed by Bryony Davies, teacher
Suggested Reading Age 7+
Other titles