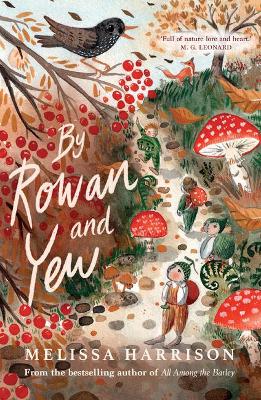 By Author / Illustrator
Melissa Harrison
Genre
Environment
Age range(s)
7+
Publisher
Chicken House Ltd
ISBN
9781913322137
Format
Paperback / softback
Published
07-10-2021
Synopsis
The breathtaking sequel to the stunning By Ash, Oak and Thorn from acclaimed nature writer and Costa Award-shortlisted novelist Melissa Harrison.
As autumn arrives, Moss, Sorrel, Burnet and Dormer decide to return home to Ash Row to unravel a riddle that might explain why their kind are fading from the Wild World. When you're only one-hand high, it's a journey filled with both danger and delight: golden leaves, shiny conkers and the brightest of berries, but also storms and the first frost of winter. They have friendship, good sense and humour on their side, but will it be enough to secure a future for the Hidden Folk? Or will they need to go further, and find a way to work with the most unreliable of creatures ... humans?
A tale of disappearing wilderness that couldn't be more relevant in today's environmental crisis, brought to life for children by three tiny, funny, eternal beings - the hidden folk.
Reviews
Bryony
By Rowan and Yew is written by Melissa Harrison. A follow up to last year's By Ash, Oak and Thorn, this is a beautiful book and excellent sequel (although you don't need to have read the first book).
This book picks up on Moss, Burnet and Cumulus' journey after their ash tree home was destroyed. The three ancient beings are known as the Hidden Folk. The set off on a quest to find a rare mortal child who can see and talk to them.  There is a race against time to save Cumulus who is fading. The Hidden Folk realise this is linked to the natural world, as they are less needed than ever before.
Harrison introduces her readers to a host of plants, trees, birds and animals through the journey. Her love of nature is clear as is her intention to share this love with children. As the seasons pass, observations are made about nature. Children can be encouraged to do the same and explore their local cities, parks and gardens for the nature that lives nearby.
Reading this book is like talking a lovely walk through nature. Delightful characters and exploration of nature come together beautifully. Beautiful maps on the end papers will also encourage children in how they explore. Highly recommended.
288 pages / Reviewed by Bryony Davies, teacher
Suggested Reading Age 7+
Kelly
Prepare to enter the magical world of the hidden folk we met in By Ash, Oak and Thorn once more in the sequel: By Rowan and Yew, from Costa Award-shortlisted novelist and nature writer Melissa Harrison. Accompany loveable characters Moss, Burnet and Sorrel as they journey far from home in search of answers. Their kind is fading. Their home has gone. They need to find help to restore balance before they go unnoticed forever.
Moss, Sorrel, Burnet and new friend Dormer return home to Ash Row to unravel a prophecy that might explain why their kind is fading from the Wild World. It is not as easy as it seems, when you are only one-hand high; the wild world, with its human adaptations, can be quite the obstacle, especially with winter looming ominously just around the corner, threatening frosts and storms. Will they discover the true meaning of the prophecy before it is too late to save their wild world?
By Rowan And Yew is the perfect autumn read, filled with conkers, golden, crispy leaves and wild berries, inspiring readers to pay more attention and to explore what nature has to offer, right in their back garden. An aptly timed book to illuminate the need for humans to work harmoniously with the natural world. A plea to explore, notice and uncover the beauty that lies around us.
288 pages / Reviewed by Kelly Buxton, teacher
Suggested Reading Age 9+
Other titles