Deadly Deep (Dread Wood, Book 4)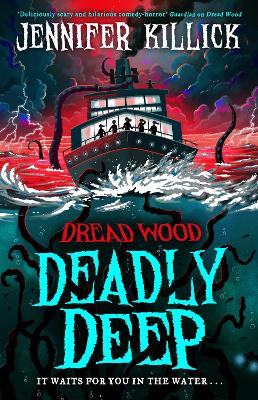 By Author / Illustrator
Jennifer Killick
Genre
Horror
Age range(s)
9+
Publisher
Farshore
ISBN
9780008538576
Format
Paperback / softback
Published
31-08-2023
Synopsis
The brand new must-read middle-grade novel from the author of super-spookyCrater Lake. Perfect for 9+ fans of R.L.Stine's Goosebumps and Stranger Things!
It's summer term and time for a school trip with a difference! Year 8 are on a boat off the coast of France, learning about ocean life. But things are about to get WEIRD . . .  Who is the creepy man on board the ship? And what IS the vast, shadowy creature seen lurking at the bottom of the ocean?
When the ship is sunk, Club Loser realise that they and their classmates are the only ones who can save the day. Can they outwit and defeat a giant, deadly sea monster from the depths? It's a fight for survival and if they fail, Club Loser will find themselves in a watery grave . . .
Reviews
Linda
Deadly Deep by Jennifer Killick is the latest captivating and frighteningly funny novel in the Dread Wood series. Living up to the author's reputation as the queen of comedy horror, Killick delivers yet another hilariously gripping story that is perfect for brave readers in Year 9 and above.
Set during a school trip with a unique twist, Deadly Deep takes Club Loser into international waters! Our favourite crew are back and this time they are on a boat off the coast of France to learn about ocean life. Miles away from civilisation, surrounded by the fathomless depths of the Mediterranean Sea… what could possibly go wrong?!
Unsurprisingly, as the story unfolds, things take a sinister turn. Killick skillfully sets the stage for a frighteningly funny tale of suspense, survival and - above all else - friendship. As always, Killick's greatest strength is not only her wicked sense of humour, but also her ability to create characters that are realistic and relatable, making them people you'd want to be friends with in real life. I loved seeing the bonds of Club Loser strengthen. Gus undoubtedly steals the show in this story and I loved seeing more of him and his personality.
Killick's ability to infuse humor and horror into the narrative ensures that readers will be both entertained and spooked as they follow the journey of Club Loser. Her storytelling prowess shines through in Deadly Deep. Her keen understanding of what makes comedy and horror work seamlessly together is evident, making the novel a truly enjoyable read. With its gripping plot, well-crafted characters, and a pulse-pounding climax, Killick has once again proven she has her finger on the beat of teen (and tween) horror. For these reasons and more, Deadly Deep deserves a five-star rating.
This book is a must-read for young readers seeking an adventure that blends chills, laughs, and unforgettable characters.
320 pages / Reviewed by Linda Canning, teacher
Suggested Reading Age 9+
Other titles