Do Grannies Have Green Fingers?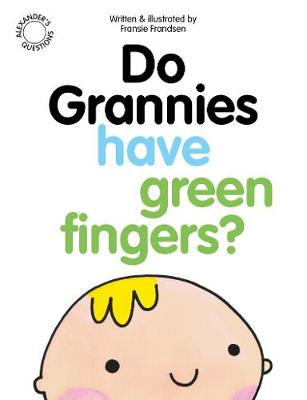 By Author / Illustrator
Fransie Frandsen
Genre
Funny Stories
Age range(s)
5+
Publisher
Whitefox Publishing Ltd
ISBN
9781912892495
Format
Paperback / softback
Published
11-06-2020
Synopsis
Granny has won yet ANOTHER prize for her fantastic garden.  "Granny really has green fingers," sighed Mummy. Mummy's nails are very green. Daddy's toes are wrinkly and green. Baby T is green all over. And the neighbour is definitely going green! But what about Granny? Join Alexander in his latest colourful quest to find the answer to the puzzling question, "Do grannies have green fingers?"
Reviews
Katherine
Do Grannies Have Green Fingers? is one of the first in a new series of books by Fransie Frandsen. The pages of this picture book are full of colour and interest for young readers as Fransie has used collage, photography and sketches to tell the inquisitive short story from Alexander's quest to find out the answer to his question: Do Grannies have green fingers?

Alexander is an inquisitive young boy who hears about his Grannie having green fingers and starts to ponder what this means. Figurative language causes all sorts of questions for Alexander, as he tries to make sense of what the adults have told him, and what he has seen and knows. As the story unfolds, Alexander looks for clues in the world and people around him, to find the answer to his question.

I really enjoyed the artwork on each page, as it really felt that each page had something interesting and new to look at. Fransie had layered photographs, sketches and colours to help tell the story from Alexander's point of view and funny misconceptions of the world. It reminded me a lot of Lauren Child's Lola and Charlie books with the illustrations and how the text was fun and used in different and interesting ways on each page.

I really enjoyed the fresh approach to looking at figurative language through misconceptions and fun, child-enquiry story telling. The font changes from bold to normal for direct speech and so would be a clear way to show children where in the story speech marks and direct speech was being used.

I would also use it in an assembly with the whole school, as I feel that these misconceptions and everyday language phrases that people use, are funny to reflect on and to enjoy together to work out what they really mean.  The artwork is fun and vibrant, and the children in my class would really enjoy studying them, and then having a go at creating their own story art using photography, collage and sketches.

I think these books would appeal to children in primary schools due to the short story text and vibrant illustrations. Younger children will also enjoy the book being read to them as the illustrations are fun, bold and colourful. A very enjoyable read.

56 pages / Ages 4+ / Reviewed by Katherine Hutchings, teacher
Suggested Reading Age 5+
Other titles