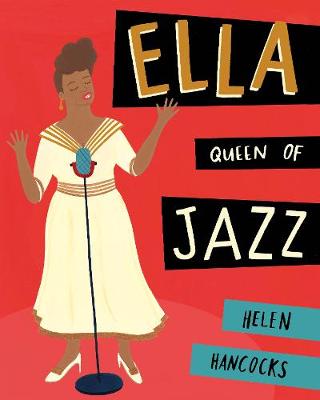 By Author / Illustrator
Helen Hancocks
Genre
Adventure
Age range(s)
7+
Publisher
Frances Lincoln Publishers Ltd
ISBN
9781847809186
Format
Hardback
Published
06-04-2017
Synopsis
Ella Fitzgerald sang the blues and she sang them good. Ella and her fellas were on the way up! It seemed like nothing could stop her, until the biggest club in town refused to let her play... and all because of her colour. But when all hope seemed lost, little did Ella imagine that a Hollywood star would step in to help. This is the incredible true story of how a remarkable friendship between Ella Fitzgerald and Marilyn Monroe was born - and how they worked together to overcome prejudice and adversity. An inspiring story, strikingly illustrated, about the unlikely friendship between two celebrated female icons of America's golden age.
Reviews
Maia

- Age 9
I loved the direct style and brightly coloured, eye-catching pictures, the collage design and brilliant layout. I was shocked at the racism described which explained that some people wouldn't let Ella Fitzgerald perform because of her skin colour. Others on the other hand helped her succeed. This was a true story and interesting to read. It shows what happened in real life.
Suggested Reading Age 9+
Nikki
Ella is an up and coming jazz singer who is struggling to hit the right notes with everyone in her career. Ella is refused the opportunity to sing at one of the biggest joints in town because she and her band of fellas are black. Hearing of this new and amazing talent a very special lady gets in contact and strikes an unmissable deal with the club. A new friendship is made between two iconic ladies and the story continues to share some of their greatest achievements together. This is a great non-fiction resource looking at people in the past without delving too deep into topics/facts about these key characters beyond academically acceptable at a primary stage, given that this book is a picture book. We loved seeing that this book was about real people especially the real-life photos on the back page. I felt just as immersed as the children with this book as I too had never heard of this tale of friendship between two such amazing artists. I would use this text to talk about influential people (modern day celebrities, sports champions etc.). What it means to be influential and the affects they can have on others both good and bad. This could take shape as a topic for discussion in PSHE or in the form of a persuasive writing stimulus. Children could think about their own influential person and the persuasive tact they would use. Great links can also be made with UNICEF convention for the rights of the child, looking at rights respecting articles around equality and respecting the rights of others. There are lots of new cultural vocabulary/sayings ('joint in town', 'hit the big time', 'on her way up', 'folks' etc.) in this book that the children could also explore. Picture book / Ages 8+ / Reviewed by Nikki Stiles, teacher.
Suggested Reading Age 7+
Other titles