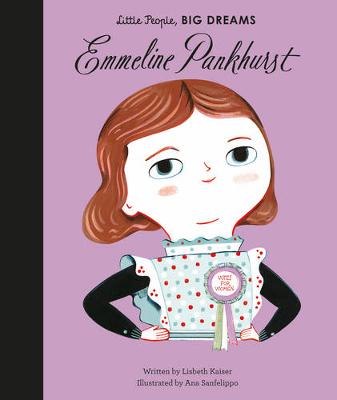 By Author / Illustrator
Lisbeth Kaiser, Ana Sanfelippo
Genre
Adventure
Age range(s)
7+
Publisher
Frances Lincoln Publishers Ltd
ISBN
9781786030191
Format
Hardback
Published
07-09-2017
Synopsis
In this international bestseller from the critically acclaimed Little People, BIG DREAMS series, meet Emmeline Pankhurst, an inspiring women's rights activist who changed the world for future generations of women.

As a child, Emmeline Pankhurst was inspired by books about heroes who fought for others. She dedicated her life to fighting for women's voting rights and, with hard work and great bravery, led a remarkable movement that changed the world. This moving book features stylish and quirky illustrations and extra facts at the back, including a biographical timeline with historical photos and a detailed profile of the activist's life.

Little People, BIG DREAMS is a bestselling series of books and educational games that explore the lives of outstanding people, from designers and artists to scientists and activists. All of them achieved incredible things, yet each began life as a child with a dream.

This empowering series offers inspiring messages to children of all ages, in a range of formats. The board books are told in simple sentences, perfect for reading aloud to babies and toddlers. The hardback versions present expanded stories for beginning readers. Boxed gift sets allow you to collect a selection of the books by theme. Paper dolls, learning cards, matching games and other fun learning tools provide even more ways to make the lives of these role models accessible to children.

Inspire the next generation of outstanding people who will change the world with Little People, BIG DREAMS!
Reviews
Lizi
The Little People, Big Dreams series is a selection of charming books that tell the stories of outstanding people, from artists to scientists. Each story begins with the person as a child with a dream (hence the title of the series!) and this one tells about the life of Emmeline Pankhurst. The story is short and written simply, making it easy for children to understand. Beginning with Pankhurst as a small girl who cannot do the things her brother can, this is a good way into teaching children about inequality amongst sexes, and how generations of women before us stood up to ensure that we could live as we can today. As with the others in the series, the book is charmingly illustrated with cartoon-like images that, again, make the story more accessible for younger readers. The story of Emmeline Pankhurst is such a big one, that I do feel this book is slightly limited as it is aimed at children so lots of the grittier details of the suffragettes fight are left out. This means this book is a good introduction to the subject, but I wouldn't say it is as historically valuable as some of the others in the series. I'd use this in the classroom to introduce the topic of rights, and how women had to fight for the vote. With younger children, this book would probably be enough to get them thinking. With older children - (Year 3 up?), the book is a starting point to ensure that children have a basic knowledge of suffragettes and the votes for women campaign, but I'd like to then encourage them to do more research, find out more about how the suffragettes rallied and then form their own arguments about whether it was successful or not. The story would also be a good starting place to ask children to consider the other side of the argument; why might men not want women to have the vote? Why might women not want the vote? This book would also be good for introducing biographies to children, it has a slightly more detailed timeline of Emmeline's life at the back and even suggests reading Pankhurst's own book that she wrote about her life. Picture book / Ages 6+ / Reviewed by Lizi Coombs, teacher.
Suggested Reading Age 5+
Lucy
Little People, Big Dreams is a collection of books about famous women and their lives. This book tells the story of Emmeline Pankhurst. The book is written like a story, despite being factual and retelling true events. The story begins with Emmeline as a child growing up in Manchester, England. She had a nice upbringing with her family in a large house, although they spent a lot of time trying to help others who were much less fortunate. Emmeline learnt to read when she was three and began to dream about what she would become when she was older. One night, she heard her mother and father discussing how it was a shame she wasn't a boy; as a girl she would have very few choices about her future. Emmeline wondered why. She started to read about women's rights and attended talks with her mother, learning about how they were treated unfairly. As she grew older, she married a lawyer who had the same beliefs as her. They campaigned together until he became sick and died, leaving Emmeline with children to care for and no rights to help her. As they grew older, Emmeline and her daughters formed a new group who began to campaign for women's rights. Many women joined their group, however, it wasn't an easy ride with many of them getting injured and arrested. Once the war broke out, Emmeline encouraged women to take over jobs that the men could no longer do. After the war, their voices were heard and women were given the right to vote. This is a detailed story with lots of information about the struggles that women went through to be seen as equal to men. It is a fantastic book to help children to understand how life used to be, as well including some brilliant pictures to help to tell the story. At the end of the book, there is a more detailed, technical timeline for older children and adults to enjoy. This biography is inspiring for children in many ways; it fuels their curiosity, shows them they can do whatever they want if they put their minds to it and it also teaches them about what life could have been like without people like Emmeline! Picture Book / Ages 7+ / Reviewed by Lucy Newton, teacher.
Suggested Reading Age 7+
Other titles