Everything You Know About Dinosaurs is Wrong!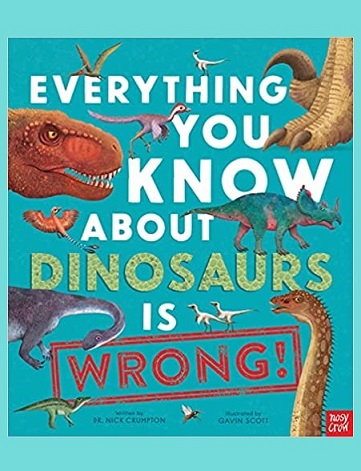 By Author / Illustrator
Dr Nick Crumpton, Gavin Scott
Genre
Non Fiction
Age range(s)
7+
Publisher
Nosy Crow Ltd
ISBN
9781788008105
Format
Hardback
Published
16-09-2021
Synopsis
Dinosaur fans will quickly become dinosaur experts with this informative, inventive and entertaining take on a dinosaur book! Do you know all there is to know about dinosaurs? They're mean, green and not very smart, right? Well, this book is here to show you that you're WRONG! But don't worry, even the experts can't be right all the time . . . So, let's uncover the truth!
From fossilised feathers to long-necked lookalikes, this ingenious book is packed with so many amazing dinosaur discoveries, you'll soon become a palaeontology pro. Including jaw-dropping research that will debunk many myths about all kinds of prehistoric creatures - you'll never look at a pigeon the same way again!  With fascinating, friendly and easy-to-understand text written by zoologist Dr. Nick Crumpton and amazingly detailed colour artwork on every page, this beautifully produced hardback gift book with an incredible tactile cover will delight dinosaur fans of any age.
Q&A with author Dr Nick Crumpton and illustrator Gavin Scott
Reviews
Jemma
Dinosaurs… they were large, scary, cold-blooded, stupid animals that ruled the world millions of years ago during the Jurassic period, where a T-rex would roar at a Stegosaurus…right? Wrong! Tyrannosaurus and Stegosaurus lived so far apart in time that humans are closer to living with a T-rex than a Stegosaurus was!
Everything You Know About Dinosaurs is Wrong is a fascinating and entertaining book that addresses our misconceptions about these prehistoric creatures. The textured hardback cover is inviting and bold, while the detailed drawings on each double page spread highlight how incredibly diverse these beasts were. The text is accessible for a wide range of ages; younger children will enjoy being read the fascinating facts while studying the colourful images, and older children can read the easy-to-understand captions independently.
Everyone loves dinosaurs and this book caters for all. Even as an adult, I hugely enjoyed reading several pages by myself with a cuppa as my wee one napped. I learnt a lot! I particularly love how this book notes how science is a process and not hard facts. Even experts can't be right all the time and it shares some images of how scientists used to think particular dinosaurs looked. With new evidence, these images have changed to reveal current understanding.
After we read this book, my daughter had a wonderful time asking her dad questions about dinosaurs and telling him he was wrong. This book gives the reader a smug sense of knowledge which children love! It is a book that we can dip in an out of and will be brilliant for school projects. So if you have a budding young palaeontologist, or a husband who thinks he knows everything, this is the book for you!
64 pages / Reviewed by Jemma Jeffrey, teacher
Suggested Reading Age 7+
Sharon
The whole premise of dispelling the common myths about dinosaurs is really simple yet so cleverly done in Everything you Know about Dinosaurs is Wrong. Although we don't study 'dinosaurs' in key stage two, this book is a great read showing how to set out factual information. The informative text and detailed illustrations present the information clearly and in an interesting way. There are links to the science curriculum in regards to animal classification and evolution.
My class were particularly interested in the fact that disputed the "fact" that all dinosaurs were cold-bloodied. They were beginning it see that scientists have to extrapolate theories from the evidence from fossil records and where in the world they are found. I like the fact that the book ends with the idea that scientific explanations may change in the future, when new evidence comes to light.  This is something I am passionate about explaining to my classes each year- and it was great to see their faces when we read this last page. I could literally see the lightbulbs switching on… it's in a book, so it must be true! Thank you for that Dr Crumpton!
I would read this book to age seven years upwards (or have my nine year olds read it for themselves).
64 pages / Reviewed by Sharon Porter, teacher
Suggested Reading Age 7+
Other titles