Everything You Know About Minibeasts is Wrong!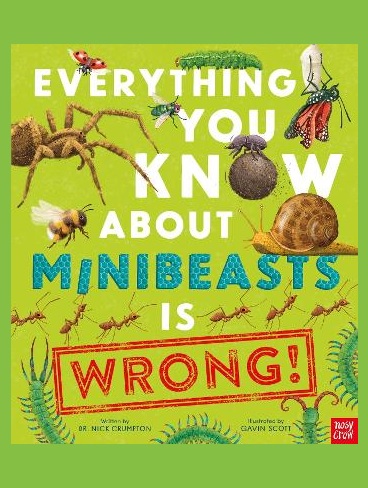 By Author / Illustrator
Dr Nick Crumpton, illus Gavin Scott
Genre
Non Fiction
Age range(s)
7+
Publisher
Nosy Crow Ltd
ISBN
9781839942037
Format
Hardback
Published
02-06-2022
Synopsis
Minibeast fans will quickly become minibeast experts with this informative, inventive and entertaining take on an animal book! Do you know all there is to know about minibeasts? Bees die when they sting you, centipedes have 100 legs and cockroaches are indestructible, right? Well, this book is here to show you that you're WRONG! But don't worry, there are so many minibeasts out there it's impossible to know everything about all of them...  So, let's uncover the truth! From incredible insect architects to eating spiders in your sleep, discover how everything you think you know about creepy-crawlies is actually untrue in this in-depth, ingenious book with debunks many common myths about all kinds of minibeasts.
With fascinating, friendly and easy-to-understand text written by zoologist Dr. Nick Crumpton and amazingly detailed colour artwork on every page, this beautifully produced hardback gift book with an stunning tactile cover will impress insect fans of any age.
Also available in this series: Everything You Know About Dinosaurs is Wrong!
Reviews
Jemma
Minibeasts… they are all small, quiet, fragile insects that as humans, only annoy us and are of no other use...right? Wrong! There are stick insects as big as cats, beetles that hiss like snakes and caterpillars with venomous spines! These fascinating creatures are vital to our way of life, with out them we would wouldn't have chocolate!
Everything You Know About Minibeasts is Wrong is a captivating and entertaining book that addresses our misconceptions about these diverse creepy-crawlies. The textured hardback cover is bold and inviting; my class of five-year-olds saw it and dived right in! They were engrossed in the detailed drawings on each double page spread which highlight the variety of minibeasts that live on our planet. The text is accessible for a wide range of ages; younger children will enjoy being read the fascinating facts while studying the colourful images, and older children can read the easy-to-understand captions independently.
Love them or hate them, this book about the worlds invertebrates caters for all. Even as an adult, I hugely enjoyed reading this and learnt a lot along the way. The statistics in this book will wow anyone! Did you know there are over 40,000 species of beetle alone?! And there are 200 million insects for every single human being living on the planet today!
I particularly love how this book states the importance of minibeasts and shares easy ways kids can investigate them at home. My class have asked to make pitfall traps! Overall this is a wonderful book that can be dipped in an out of and will be brilliant for school projects. So if you have a budding young entomologist (most kids are!) then this book is for you!
64 pages /  Reviewed by Jemma, teacher
Suggested Reading Age 5+
Lucy
What a gorgeous book! Each page is beautifully illustrated with detailed diagrams and pictures, all presented differently to keep the reader interested. For any child who has an interest in animals or more specifically minibeasts, this book is heavenly. It's incredibly informative yet written in a humorous and entertaining manner. It's completely bursting with facts!
As a teacher, this would be a brilliant addition to any classroom to enthuse children during free reading time but also as a resource for science teaching. I can imagine many children also enjoying getting stuck into this book as part of their bedtime reading at home too.
64 pages / Reviewed by Lucy, teacher
Suggested Reading Age 7+
Other titles