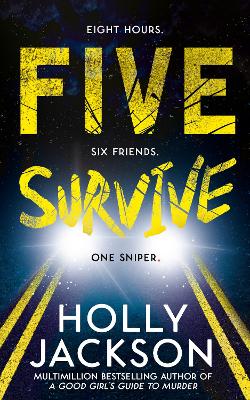 By Author / Illustrator
Holly Jackson
Genre
Suspense & Thrillers
Age range(s)
14+
Publisher
HarperCollins Publishers
ISBN
9780755504404
Format
Hardback
Published
08-12-2022
Synopsis
The new explosive YA crime thriller from the New York Times and Sunday Times bestselling author of A Good Girl's Guide to Murder!
Eighteen year old Red and her friends are on a road trip in an RV, heading to the beach for Spring Break.  It's a long drive but spirits are high. Until the RV breaks down in the middle of nowhere. And as the wheels are shot out, one by one, the friends realise that this is no accident.  There's a sniper out there. He's watching them and he knows exactly who they are. One of the group has a secret that the sniper is willing to kill for.  As a game of cat-and-mouse plays out, the group desperately tries to get help. Buried secrets are forced to light and tensions within the group reach deadly levels. Only one thing is for sure. Not everyone will survive the night . . .
Reviews
Ruth
Five Survive is a brilliant, breathtaking book! Six excited friends set off for a welcome break together but by nightfall, their lives are at risk from an unknown assailant. The narrative is as taut and tense as the emotions of the cast of characters trapped in their broken down RV off the beaten track in America. The six isolated friends are forced to plan their escape from their perilous predicament and in doing so reveal long buried secrets, one of which will provide the key to their survival.
Holly Jackson has successfully followed up her best-selling A Good Girl's Guide to Murder trilogy with another thriller which will keep you on the edge of your reading seat! This story is a pacey page-turner; I read it in less than a day. It has twists and turns and all loose ends are satisfyingly resolved. The drama is played out not just within a short period of time but the main focus of the action is contained within the confines of the mobile home.
It is a triumph of creative writing, managing to create tension and terror and building to a dramatic climax, following which the friends' lives will be changed forever. I thoroughly recommend this book. It is suitable for upper secondary school students and young adults. One of my top reads of 2022!
Trigger warnings - offensive language, violence and sustained tension.
400 pages / Reviewed by Ruth Cornish, school librarian
Suggested Reading Age 14+
Other titles