I, Spy: a Bletchley Park mystery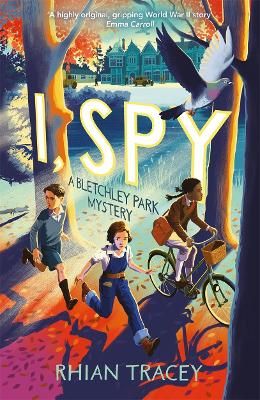 By Author / Illustrator
Rhian Tracey
Genre
Mystery & Detective
Age range(s)
9+
Publisher
Piccadilly Press
ISBN
9781800784406
Format
Paperback / softback
Published
02-03-2023
Synopsis
A thrilling mystery adventure set in Bletchley Park at the start of World War II, based on true events. 
Twelve-year-old Robyn has grown up in Bletchley Park, where her father works as a driver. When she's not at school, there's nothing she likes more than helping her dad in the garages.  Then the war begins and everything at Bletchley changes.  Robyn is assigned to help with the carrier pigeons that take messages to the Allies. But first, she must sign the Official Secrets Act and is ordered not to leave the grounds of the park. While Bletchley is buzzing with people recruited for the war effort and all eyes are on the skies, Robyn becomes convinced that there's something sinister going on within Bletchley Park itself.  Together with her friends Mary and Ned, Robyn resolves to uncover the enemy in their midst . . .
Perfect for fans of Phil Earle and Hilary McKay.  "A highly original, gripping World War II story" - Emma Carroll. 'I loved this spy mystery about Robyn and her friends as they try to uncover the enemy in their midst. Rhian's wonderful descriptions of Bletchley Park made me feel I was there in one of the most famous settings in WWII Britain. Readers will be hooked till the end.' Sufiya Ahmed, author of Rosie Raja: Churchill's Spy
Reviews
Clair
I really enjoy reading historical fiction, it is one of my favourite genres and I, Spy did not disappoint. This book is set at the beginning of World War II. The main character, Robyn, lives at Bletchley Park. She loves bird watching, drawing and nature and had started a Bird and Tree Club for her school friends, the profits from which she'd hoped would one day buy a car.
However, when Robyn borrows a bike from Bletchley Park to ride to school and is accused of stealing park property, going off-site without permission, failing to sign in and show a pass, and speaking to civilians in a suspect manner, she is stopped from attending school altogether.  There is much concern over children living at Bletchley Park and the possibility of information being gleaned through their loose talk. Robyn is, therefore, asked to sign The Official Secrets Act and given an apprenticeship to work in the pigeon lofts.
Robyn is determined to make the best of it and learns all she can about the carrier pigeons and the important role they play in delivering coded messages during the war. She and her friends Mary and Ned are very intelligent and observant. They become convinced that someone at Bletchley Park is an undercover spy and that something sinister is going on, and they set out to gather evidence to expose the traitor.
I think this book will appeal to children that like nature, mystery and historical fiction. Those that enjoyed Emma Carroll's Letters from the Lighthouse and M G Leonard's Twitch will enjoy reading I, Spy. Reading this book has certainly made me want to visit Bletchley Park to learn more about its history. The cover is beautifully illustrated by David Dean and there are little pigeons drawn at the beginning of every chapter.
Suggested Reading Age 9+
Louisa
Robyn has always lived at BP (Bletchley Park) where her father looks after the vehicles. Then, in 1939, everything starts to change. She's no longer allowed out of the grounds to go to school - she can't even row across to 'her' island in the lake. Worse still, nobody will explain why - there are as many secrets as there are new rules. Soon, however, she has signed the Official Secrets Act and begun a new apprenticeship too, learning to look after the messenger pigeons. Her new post keeps her busy, but when she suspects a sinister plot, she's not too busy to investigate, along with her new friends, Mary and Ned.
The historic spy setting of Bletchley Park is perfect for a thrilling story of espionage and treachery - and yet it's not one I've seen used before. Robyn and her plucky pals are an appealing bunch of protagonists and I was quickly caught up in the narrative. I then raced happily through the switchback twists and turns of the story as the children realise their suspicions are right and begin to close in on the villain. I found it hard to make sense of the traitor's plans (to explain more would be a spoiler), but the idea of double crossing spies was clear enough and the momentum of the story was undiminished by a bit of puzzlement at the end.
This book would complement any study of the Second World War alongside other favourites like Letters from the Lighthouse and Anna at War. Of course it will appeal to those who like historical fiction, but I would recommend it also to any children who like a pacy adventure story.
272 pages / Reviewed by Louisa Farrow, teacher
Suggested Reading Age 9+
Other titles