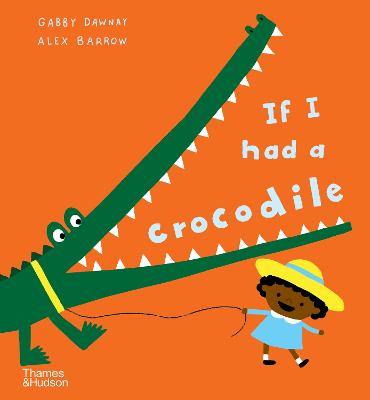 By Author / Illustrator
Gabby Dawnay, Alex Barrow
Genre
Animals
Age range(s)
3+
Publisher
Thames & Hudson Ltd
ISBN
9780500653050
Format
Hardback
Published
18-05-2023
Synopsis
A charming and imaginative story in the bestselling 'If I had a...' series, which imagines life with a crocodile as a pet.

There's more to a crocodile than its scaly skin and scary teeth - they stay cool under pressure (in part because they can't sweat) and on a rainy day, they love nothing more than a fast game of Snap!

This latest addition to the 'If I Had a...' series is packed with humour and rollicking rhymes that young children readily catch on to. Its bold, graphic illustrations are stylish and packed with quirky details for children to spot. The book winds down to a satisfying end where the little girl drifts off to sleep, making it perfect for bedtime routines.
Reviews
Maria
If I had a crocodile is part of the series If I had a ... published by Thames and Hudson. The front cover has a huge crocodile with the title If I had a crocodile and encourages the reader to dive in!
This rhyming text interwoven with gorgeous illustrations imagine what it would be like to have a crocodile. We see the female character in different scenarios with her pet crocodile taking part in every day life and being part of her routines. From attending ballet classes to playing snap, having a pet crocodile could be so much fun! As we say in Year 2 anything can happen in a story and in If I had a crocodile, that is perfectly true!
Picture book / Reviewed by Maria, teacher
Suggested Reading Age 3+
Other titles