Kitchen Science: 30 Awesome STEM Experiments To Try At Home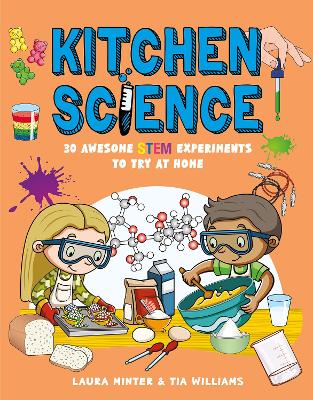 By Author / Illustrator
Laura Minter and Tia Williams
Genre
Non Fiction
Age range(s)
7+
Publisher
Button Books
ISBN
9781787081222
Format
Paperback / softback
Published
07-04-2022
Synopsis
Kitchen Science is a collection of 30 STEM-themed activities for children, making use of everyday materials found in the kitchen. Forget about sterile laboratories and stuffy classrooms, there are oodles of awesome science experiments waiting to be done, right under your nose in the kitchen! Learn about how microwaves work, why honeycomb is full of bubbles, how to make plastic out of milk and much more. With the added bonus of making some yummy treats as part of some experiments, what's not to love?
Ideal for parents/carers who have experienced home-schooling fatigue and cupboard-raiding children who want to inject some practical fun into their learning, this book provides an accessible and stimulating way to explore STEM themes at home. Each experiment is accompanied by an illustrated explanation of the science behind it and how it works.
Reviews
Jennifer
I am already a fan of these two particular authors and their fresh and appealing style of non-fiction, after reading Science School. Kitchen Science is another bright, bold and exciting book packed with practical and creative experiments that can be easily tried at home (or in school) with simple, inexpensive and easily found items from the kitchen cupboard or grabbed from any supermarket.
The A4 sized book bursts with clearly numbered and captioned instruction guides to completing the experiment, plus well sized sequences of photographs and excellent extra tips. As with the previous book Science School, there is a fantastic 'Science made simple' section which clearly explains the technical part with concise and child friendly vocab.
Some of these experiments need some adult supervision (safety first with boiling water) but all of the science challenges are extremely hands on, tactile and very interactive. There are plenty with instant results for impatient scientists and lots of visual changes to be amazed at. 'Growing Gummy Bears' is a fun, cheap and simple overnight experiment for children to engage in and 'Electric oobleck' sounds gleefully gooey.
I love the glossiness and colourfulness of the book. It is an amazing volume of intriguing experiments for an excellent price; a really impressive addition to simple home science and also to high impact, (low stress preparation) quick STEM activities in school!
128 pages / Reviewed by Jennifer, teacher
Suggested Reading Age 5+
Other titles