Knight in Training: A Very Bothersome Bear: Book 3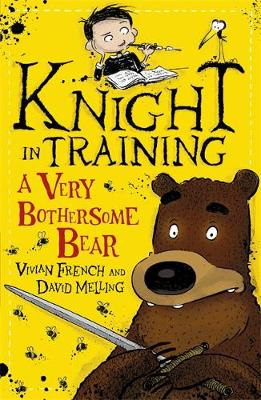 By Author / Illustrator
David Melling, Vivian French
Genre
Adventure
Age range(s)
7+
Publisher
Hachette Children's Group
ISBN
9781444922301
Format
Paperback / softback
Published
01-10-2015
Synopsis
A funny, exciting series for younger readers, by the bestselling Vivian French and David Melling.

Sam J. Butterbiggins' only ambition is to be a Very Noble Knight, but he has a problem - he's been packed off to the castle next door to stay with his aunt, uncle and cousin Prune while his parents are away.

But Sam's discovered a magical scroll listing the six quests to be completed to become a knight, and with his True Companion Prune's help, he's already managed two! Now Sam must find a goodly sword, but he keeps getting distracted by noble deeds that need doing. Helping a grumpy dwarf, a dunderheaded bear and an island of tiny elves might mean he'll never find his sword, but isn't that what a Very Noble Knight would do ...?
Reviews
June
Sam J. Butterbiggins is a Knight-in-Training. In the first book of the series he acquired a True Companion, in the second, a Noble Steed and now, in the third book, the magic scroll has given instructions on how he may go about obtaining a Goodly Sword. Readers of the previous books will already know that this is not going to be an easy task and there will come a time when Sam has to give up his own ambitions for the sake of someone else. This book, however, in the same manner as the first two, shows that such unselfish behaviour will have its reward. The story of Sam's quest for a Goodly Sword involves a search for a castle that floats, a very bad-tempered elf called Septimus Sprockit and Beezer the Bear, who has his own motives for helping Sam. Despite the adventures and the disappointments, there is always a happy ending for everyone in these stories and this is no exception. Readers who have read and enjoyed the first two books will be very keen to read the third, but even those who have not met Sam before will soon become acquainted with the characters and the situation. There are plentiful illustrations and the story is very entertaining. Confident young readers should have no trouble with the vocabulary and it is also ideal for reading aloud to children, giving plenty of opportunities to exercise skills in funny voices for the various characters. 128 pages / Ages 7+ / Reviewed by June Hughes, librarian.
Suggested Reading Age 7+
Other titles