Little Bee: A Day in the Life of the Bee Brood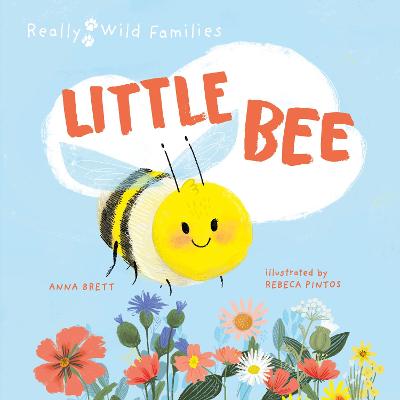 By Author / Illustrator
Rebeca Pintos, Anna Brett
Genre
Environment
Age range(s)
3+
Publisher
QED Publishing
ISBN
9780711274143
Format
Hardback
Published
07-06-2022
Synopsis
In the Really Wild Families series, based on the everyday adventures of wild animals, discover what the littlest members of the family get up to! Through their eyes we will explore the habitats, family dynamics and how they play, grow and survive as a family. 
Discover what Little Bee gets up to, and meet their family, learning loads of great facts along the way!  Little Bee has a BIG family! She has over one hundred sisters and a few baby brothers, and they all live together in the nest with their Mummy, the Queen. Little Bee is super excited to introduce us to her family and explore the nest together.   Learn all about nature's hardest worker:  What happens in the nest; What pollination is;  Who the queen is;  How honeybees talk to each other;  and Why bees are so important.
This adorable story is followed by a fun factivity section packed with craft projects, case studies and a quiz section at the back of the book, so you can put everything you have learnt about Little Bee and their family to the test.  Beautiful and bright illustrations will make this informative book a hit with children of all ages!
See also Little Lion: A Day in the Life of a Lion Cub
Reviews
Kyle
Anna Brett has created something wonderful through her 'Really Wild Families' series. These are beautifully illustrated children's book which are full of interesting information - this one focused on Little Bee, and there is also Little Lion. The reader is taken on a trip to explore the day in the life of a lion or bee. This is done so in a non fiction way yet the book itself feels like a story. You find yourself picking up bits of information without realising.
My son and I absolutely loved learning about little lion and little bee and their families. The young stars of the books show us how their family is made up, and what they all do each day and night. We also learn how they survive, where they live, what they eat and how they protect themselves. Anna Brett's words are wonderfully suited for the younger audiences and despite not being able to access the text independently, the books are written in such as way that they can remain engaged whilst the book is being read to them. Alongside the words, the illustrations offer further support for the children. They are bright, eye catching and colourful but they are also detailed...children who are not confident enough to access the text themselves will still be able to 'read' a good deal from the details portrayed within the pictures.
There is also fun activity sections at the end of the book, which will keep you and your little ones busy! These activities include games, puzzles and craft ideas but there is also space for real photography of the animals with interesting nuggets of knowledge. Anyone who reads or has this read to them certainly walks away from the text having deepened their knowledge of these animal families...even though it may not seem like it. The perfect series for EYFS and KS1 settings working around animals for their science units of learning.
48 pages / Reviewed by Kyle Matraverse, teacher
Suggested Reading Age 3+
Other titles