Look, it's Roar Roar Lion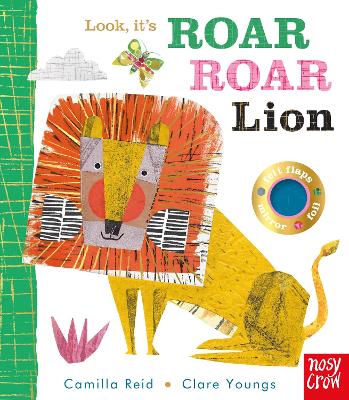 By Author / Illustrator
Clare Youngs, Camilla Reid (Editorial Director)
Genre
Baby & Toddler Books
Publisher
Nosy Crow Ltd
ISBN
9781839943690
Format
Board book
Published
05-05-2022
Synopsis
Introducing an exciting new multi-sensory board book series written by Camilla Reid, with illustrations from acclaimed collage artist Clare Youngs!   All pre-schoolers will adore Clare Youngs' friendly animals with their high-contrast collage artwork, decorative foil highlights and signature animal noises - but there's a tiny creature to find behind a tuggable felt flap on each spread, too!
In this book, you'll meet Clip Clop Zebra, Ooo Ooo Monkey, Munch Munch Hippo and Roar Roar Lion himself. With a final 'recap' animal noises page, and the question, "But what noise do YOU make?", little readers will enjoy lifting the last flap and saying 'hello' to themselves in the surprise mirror!
Visually gorgeous and with a genuinely engaging hide-and-seek narrative, this is the launch of a stunning new series from the author behind some of Nosy Crow's bestselling pre-school books: Felt Flaps Where's Mr/Mrs?, Pip and Posy, Bizzy Bear and Peekaboo.  Also available: Look, It's Moo Moo Cow!
Reviews
Jessica
Welcome to the new board book series from Nosy Crow which promises to give your baby a multi-sensory experience. Aimed at babies aged 0-2, this series is full of fun with: a hide and seek game, tuggable (and chewable!) felt flaps, bumpy foil illustrations and a hidden mirror.
In Look, it's Roar Roar Lion, we will meet a range of well-known safari animals and learn their sounds: Clip Clop Zebra, Ooo Ooo Monkey, Munch Munch Hippo and Roar Roar Lion. Clare Young's animal illustrations really do steal the show! She is a collage artist who has created the most intricate, high contrast patterns on each of the animal's bodies. The collage of pattern is sure to capture your baby's attention - and the attention of us adults! The foil elements add yet more texture to the animal collages too. As well as encouraging our little ones to mimic animal noises, each page engages them in a game of hide and seek as they exercise their fine motor skills to discover small creatures behind each brightly coloured flap. The multi-sensory animal experience continues right to the end where we lift the final flap to be greeted by the reflection of baby and you in a mirror.
Other multi-sensory books in this series to keep a look out for include: Look, it's Woof Woof Dog, Look, it's Twit Twoo Owl and Look, it's Moo Moo Cow.
Board book / Reviewed by Jessica Bunney
Suggested Reading Age 0+
Other titles