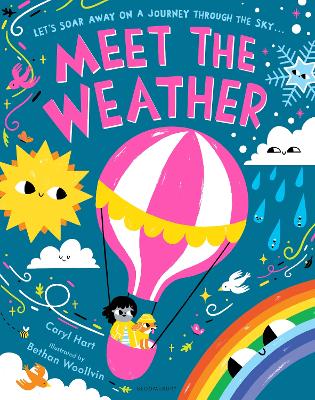 By Author / Illustrator
Caryl Hart, illus Bethan Woollvin
Genre
Non Fiction
Age range(s)
3+
Publisher
Bloomsbury Publishing PLC
ISBN
9781526639813
Format
Paperback / softback
Published
02-03-2023
Synopsis
WHOOOOSH! We're off on an exciting adventure in our hot-air balloon to say hello to all the different kinds of weather that make up our world.  Join in with the rhymes and get ready to meet everything from whooshing wind to bright rainbows and shimmering sunshine. Little ones will be swept away on an unforgettable journey in this striking, action-packed picture book.
This bold, bright follow-up to the acclaimed picture books Meet the Planets and Meet the Oceans is packed with gorgeous illustrations of everything from rainy rainforests to snowy mountains and stormy seas. Combining STEM learning with a rhyming twist, it's perfect for all little meteorologists!
Reviews
Jessica
I was absolutely delighted at the release of Meet the Weather after being so fond of the other books in this series. Meet the Planets and Meet the Oceans have been used regularly in my Key Stage One and Early years teaching and I just knew this book would be equally as valuable.
This series of books have some of the most eye-catching, striking and vibrant covers I have ever seen. These bold, attention-seeking illustrations continue throughout the book with Bethan Woollvins clever use of luminous colours, lines and shapes. When you eventually pull yourself away from indulging in the illustrations, you will see that the author has been just as creative!
Caryl Hart has written in a narrative style whilst including many useful and memorable facts about the weather. Each type of weather is personified and given a personality to match their characteristics. We meet some new friends: Cloud - who loves making shapes, Wind - who whooshes wildly, Lightening and its playmate, Thunder, twirling Tornado, Fog - who finds it awfully tricky to see and so many more! On the final page, we are asked, "Tell me, what is the weather today?"
On the next turn of the page, we are gifted a fantastic weather-o-meter that children can use to help them use the vocabulary from this book to describe the weather each day. This is something I look forward to using with my class (and my own daughter too!) as a discussion tool at the beginning of the day. I look forward to enjoying this story again and again and sharing the joy of it with others too!
Picture book / Reviewed by Jessica, teacher
Suggested Reading Age 3+
Other titles