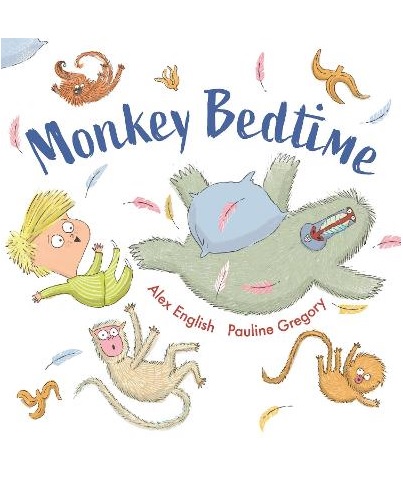 By Author / Illustrator
Alex English, Pauline Gregory
Genre
Funny Stories
Age range(s)
3+
Publisher
Faber & Faber
ISBN
9780571352777
Format
Paperback / softback
Published
05-05-2022
Synopsis
'Suddenly I heard an EEK, a TAP TAP on the pane.  A tiny little monkey face was peering through the rain.  I'm sure my mom won't mind, I thought. He's really very small.  One tiny pygmy marmoset could do no harm at all...'
When a little boy lets a monkey in through his window, he doesn't expect it to bring all its friends! But when he is followed by six red-handed howlers, six macaques, ten capuchins and two great big baboons, there's going to be trouble! Surely mum will notice the banana skins, the toothpaste, the handprints on the walls....  Will he ever get to bed with all this monkeying around?  Alex's hilarious rhyming text matched with Pauline's expressive illustrations makes for the perfect bedtime read!
Reviews
Ashley
I always love a book that rhymes and this one was a delight! The children laughed out loud at some of the monkey's hilarious antics and they could also relate the story to when they've been told by an adult to stop monkeying around and what this means! We also had great discussions about the different types of monkeys in the story and which ones they'd seen recently on a school trip to the zoo.
This is not just perfect for bedtime reading, but a great story to read aloud at any time with expressive illustrations too.
Suggested Reading Age 3+
Other titles