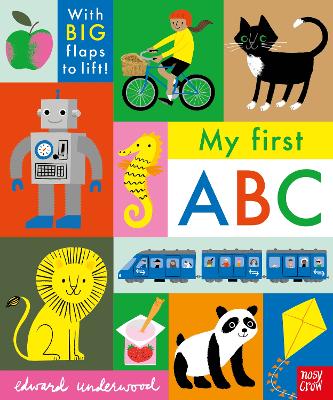 By Author / Illustrator
Edward Underwood
Genre
Early Skills
Publisher
Nosy Crow Ltd
ISBN
9781839945014
Format
Board book
Published
03-08-2023
Synopsis
A beautiful, large-format gift board book with BIG flaps to lift and words to learn on every page.  All toddlers and preschoolers will adore learning their letters as they search for objects, animals and people behind the shaped flaps, name what they can see and begin to learn the letter names and sounds of the alphabet.
With a vibrant, sophisticated and distinctive design and beautiful illustrations from stationery and homeware designer Edward Underwood, this gift title is the perfect first words book for little ones.  A brilliant tool for building vocabulary, exploring letters and sounds, stimulating speech and securing the foundations of reading, this delightful book is really just full of flaps and FUN!
Reviews
Jessica
My First ABC is full of learning opportunities for little ones who are beginning to want to find the words for everyday nouns they encounter. What I like most about this alphabet book is the range of vocabulary that our children are introduced to for each letter of the alphabet, which is so easily accessible through the accompanying QR code.  So often, only one word is matched with each letter of the alphabet.   In this book, we are invited to broaden our vocabulary as we encounter each new letter with a variety of corresponding words.
The words chosen in this book have been very carefully chosen for their initial letters which make the sound for each letter rather than the letter name. This is perfect for children in early years settings who are beginning to learn phonics and listen to the sounds words begin with.
In this book, we learn different transport names, for example: ambulance, bike, car and helicopter. We also encounter groups of words for foods, including: apple, egg, jelly and tomato. There are also a range of animals named, including: elephant, goose hen, hamster and fox.
Another tool this book provides is a visual representation of words that children may have heard in everyday language which they have not yet linked to an image. For example, knowing what a candle, robot, rocket and lock might look like.
We know that warm, bright colours such as reds, yellows and oranges have a greater effect on human memory. Homeware and stationary designer Edward Underwood uses these vibrant colours well to help our little ones to retain the images and corresponding names for these images that they will encounter.
This is especially useful on the final page, where we can practice using the colourful alphabet grid to sing the alphabet. Why not try singing it using different tunes? Excitingly, there are a growing range of titles available in this series which each focus on extending children's vocabulary within themes such as city and nature words.
16 pages / Board book / Reviewed by Jessica Bunney, teacher
Suggested Reading Age 0+
Other titles