Once Upon a Mermaid's Tail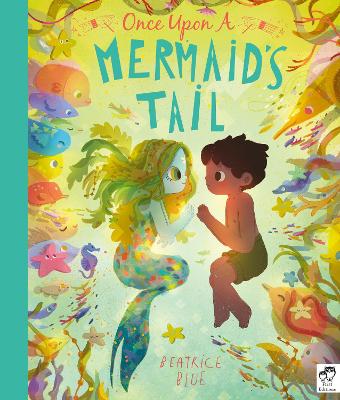 By Author / Illustrator
Beatrice Blue
Genre
Environment
Age range(s)
3+
Publisher
Frances Lincoln Publishers Ltd
ISBN
9780711248281
Format
Paperback / softback
Published
13-04-2021
Synopsis
From the author of the Waterstones Children's Prize shortlisted Once Upon a Unicorn Horn comes a beautiful story of friendship and protecting the oceans.

Theodore has a little boat and a big passion: collecting fish. He loves nothing better than discovering a new fish for his collection. But one day, he finds something he's never seen before: a tiny creature in a beautiful shell. Ignoring the voice that tells him to leave her alone, he takes her home, but in a tank she gets weaker and weaker. Can Theodore learn that the creature belongs in the ocean, before it's too late?

This heart-warming story about how mermaids got their tails is the follow-up to the critically acclaimed and best-selling Once Upon A Unicorn Horn and Once Upon a Dragon's Fire.
Reviews
Amanda
Do you know how mermaids got their tails? It all began once upon a magic ocean, with a little boy called Theodore who loved to collect fish. One day, he found a tiny creature in a beautiful shell. He took her home but in his tank she got weaker and weaker. Luckily, Theodore figured out a way to make his new friend better. What do you think it could have been?
Once Upon a Mermaid's Tail is a wonderfully written picture book mixing colourful illustrations and a heart warming story with an important message. This is a must have for any child's book shelf or book corner. It introduces children to the reasons why we should enjoy the beauties of nature exactly where we find it and not try to keep it for ourselves. It is also a pleasure to read a book that features mermaids with a male central character. Fantastic work Beatrice. I know that this will be read over and over again in so many homes and schools.
Suggested Reading Age 3+
Other titles