Pick a Story: A Pirate Alien Jungle Adventure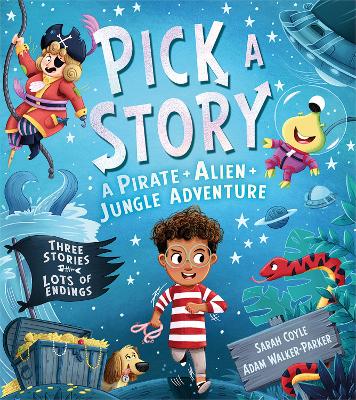 By Author / Illustrator
Sarah Coyle, illus Adam Walker-Parker
Genre
Adventure
Age range(s)
5+
Publisher
HarperCollins Publishers
ISBN
9781405299046
Format
Paperback / softback
Published
04-08-2022
Synopsis
The first in a sparkling new series of 'pick your own' picture book adventures!  Do you love pirates? How about aliens? And jungle animals?  Find them ALL in the pages of this laugh-out-loud interactive adventure!
Vincent's dog, Trouble, has DISAPPEARED and he needs YOUR help.
Has Trouble been stolen by aliens?
Or pilfered by pirates?
Is she exploring the jungle?
It's up to YOU to decide!
Discover not one but THREE fun-filled worlds in this PICK A STORY adventure. You'll find twists and turns, hilarious characters . . . and decisions to make on every page. So what are you waiting for? Come on in and join the fun!   'The ideal book to inspire a lifelong love of reading' - Lancashire Newspaper Group.  'A truly un-put-downable book' - Armadillo Magazine.  
Look out for Pick a Story: A Dinosaur Unicorn Robot Adventure;  Pick a Story: A Superhero Mermaid Dragon Adventure
Reviews
Kyle
Through 'Pick a Story', Sarah Coyle has created a new series of books for the creative and imaginative readers out there. Following the success of the 'You Choose' series of books, Sarah has taken this one step further by weaving a narrative tale in which each choice creates a different outcome. Each book allows the reader to enter not one but three worlds in which to create an adventure of their own. Every world is packed full of twists and turns and offers a truly colossal array of stories based on which option is picked. The stories are accompanied by bright and vibrant illustrations which also help the readers make choices through some of the clues they can find within them.
During book one, Pick a Story: A Pirate+Alien+Jungle Adventure, young readers and story tellers are transported between a world of pirates, aliens and jungles whereas book two offers the choices of dinosaurs, unicorns and robots. A real positive trait of these books is that it doesn't fall into the trap of social stereotyping by ensuring there isn't a feel of a 'boys' book' or a 'girls' book' - all children are able to enjoy any of the books. One of the success of these books is that it is a great resource for children with SEND. Those children that like to take control or find picking option difficult are able to practise and consolidate those skills through reading these texts.
Despite the fundamental basis of the books being one in which choices are encouraged and drive the narrative outcome, I did find that the stories went on too long and became increasingly repetitive. This meant that the traditional flow and pace of a story was lost and in turn, the engagement was lost, too. I noticed this first hand after reading and sharing these books with my own six-year-old son.
Overall, a great idea and a series of book that I would happily allow children to explore but not one that I would create a curriculum around.
Picture book / Reviewed by Kyle Matravers, teacher
Suggested Reading Age 3+
Amanda
Sarah and Adam have created not one but three stories with multiple different endings in this playful book, Pick a Story: A Pirate Alien Jungle Adventure. The topics are ones which will draw children's imagination and keep them hooked and the changing endings will keep parents wanting to read it over and over again. The illustrations are colourful, bold and clear, adding to the fun of the wonderfully creative plot lines. Each child will feel like they have been chosen for an important mission.  Vincent's dog, Trouble, has disappeared and he needs help. This book is filled with 'hilarious characters, super-silly scenarios' and the reader gets to choose what happens.
In class I would use this to encourage pupils to write their own ending by reading part way through and stopping. It could be used for language and vocabulary development and whould lead to a huge amount of discussion. If read in a group, you could link to British Values by voting for which page that you would turn to, discuss fairness and turn taking.
This is such a different style of story that it is a must have for every classroom and library. It is sure to be well loved.
Picture book / Reviewed by Amanda Shipton, teacher
Suggested Reading Age 5+
Other titles