Pirate Blunderbeard: Worst. Pirate. Ever. (Pirate Blunderbeard, Book 1)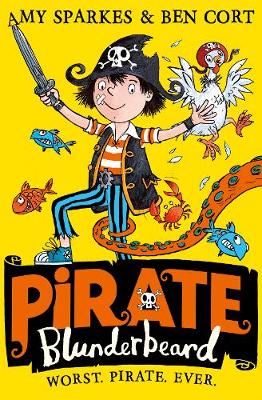 By Author / Illustrator
Amy Sparkes, Ben Cort
Genre
Adventure
Age range(s)
7+
Publisher
HarperCollins Publishers
ISBN
9780008201807
Format
Paperback / softback
Published
01-06-2017
Synopsis
Can the worst pirate ever win the Pirate of the Year Award...?
Set sail with the funniest pirate on the seven seas in this hilarious adventure for readers of 7+ with brilliant pictures throughout from ALIENS LOVE UNDERPANTS illustrator Ben Cort.
Mum is making me take part in the stupid Pirate of the Year Award. All I have to do is fight an enormous sea monster, (doom), beat my oh-so-brilliant brother at something (please please please) and find the legendary treasure that no one has ever found EVER in the history of EVER (easy peasy, then). Wish me luck! Pirate Blunderbeard.
Blunderbeard might be the worst pirate ever but he's also the funniest - laugh-out-loud fun for young readers of 7+
Reviews
Jacqueline
These books, written for around seven years, are such fun even adults will find themselves chuckling at the jokes and the word play. Written in the form of a diary, these books chart the adventures and misadventures of Pirate Blunderbeard and his pirate family. Blunderbeard is the youngest of two brothers; his older brother Blackbeard being the preferred and successful pirate. Blunderbeard is not your average pirate - he invents amazing and sometimes useful machines and bakes fantastic cupcakes. Over all, he is, as he suggests, the worst pirate ever and he tries very hard to redeem himself, usually with little success. He is in fact so bad, his parrot leaves him! At first glance this is a book of slapstick but it is much cleverer than that. The plays on words (Barber Rossa cuts hair of course!) and the acronyms make these books extremely funny. My nine year old, who possibly considers himself above reading such books, literally chortled with laughter over them and immediately asked if I had the next one in the series (due out next year). The books are wonderfully illustrated with wacky pictures that really add to the story (I loved the family tree at the end of the first book) and they suggest this hovers between a complete fantasy and real sibling relationships. It is hard to find interesting books written as diaries for this age group and with the addition of letters and maps as part of the text, Blunderbeard has a lot of potential for use in the classroom. It would also be a great hook for a reluctant reader with its not quite lavatory humour and general craziness. I loved the character of Blunderbeard, but Boris is a stroke of sheer genius and you'll have to read the books to find out why!
Suggested Reading Age 7+
Other titles