Pirate Stew: The show-stopping new picture book from Neil Gaiman and Chris Riddell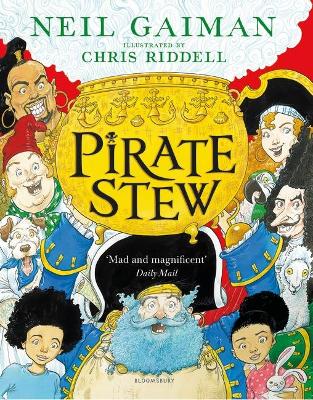 By Author / Illustrator
Neil Gaiman, Chris Riddell
Genre
Adventure
Age range(s)
5+
Publisher
Bloomsbury Publishing PLC
ISBN
9781526614711
Format
Paperback / softback
Published
02-09-2021
Synopsis
Meet LONG JOHN McRON, SHIP'S COOK . . . and the most unusual babysitter you've ever seen. Long John has a whole crew of wild pirates in tow, and - for two intrepid children - he's about to transform a perfectly ordinary evening into a riotous adventure beneath a pirate moon. It's time to make some PIRATE STEW.
Marvellously silly and gloriously entertaining, this tale of pirates, flying ships, donut feasts and some rather magical stew is perfect for all pirates, both young and old. With a deliciously rhyming text from master storyteller Neil Gaiman, and spellbinding illustrations by the supremely talented Chris Riddell, three-times-winner of the Kate Greenaway Medal, this is the picture book of the year! Joyful, quirky and action-packed, it makes a spectacular and magical gift.
Reviews
Maria
Pirate stew! Pirate stew! Pirate stew for me and you! What a fantastic rhyming book about pirates, a flying ship and delicious donuts! This book, written by the talented Neil Gaiman and illustrated by Chris Riddell, was thoroughly enjoyed in Year 2. The front cover was full of shiny gold and funny pirates and encouraged us to read and share straight away.
The story is cleverly written in rhyme with the stanza Pirate stew! resonating throughout the book which definitely encourages taking part in a pirate voice! There is lots of pirate vocabulary to learn makes the story interesting to all. The illustrations complement the text and are extremely detailed and funny. A great story to share which will have you laughing, joining in and probably talking like a pirate!
48 pages / Reviewed by Maria Aldred, teacher
Suggested Reading Age 5+
Other titles