Princess Minna: The Unicorn Mix-Up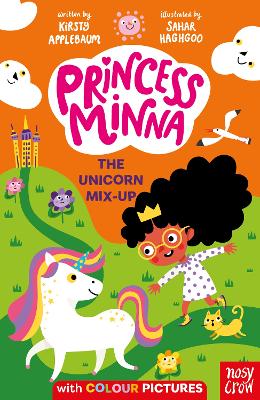 By Author / Illustrator
Kirsty Applebaum, Sahar Haghgoo
Genre
Fairy Tales & Folk Tales
Age range(s)
5+
Publisher
Nosy Crow Ltd
ISBN
9781788009751
Format
Paperback / softback
Published
05-05-2022
Synopsis
Princess Minna loves to sort out mix-ups and mishaps in the kingdom! In this full-colour, illustrated chapter book, join her on another adventure to tame a unicorn and much more - all in time for tea.   Princess Minna lives in Castle Tall-Towers with the King and Queen, Raymond the Wizard and her best dragon friend, Lorenzo. There are often mix-ups and mishaps in the kingdom and Princess Minna loves to sort them out! She can tame unicorns, kiss frogs and fight dragons (apart from Lorenzo) and she is very good at fixing things before it's time for bed.  In The Unicorn Mix-Up, Princess Minna is so tired she gets a bit muddled and fights a unicorn, kisses a dragon and tries to tame a frog - which won't do at all! Can she sort it all out and make a new friend along the way?
Full of colourful illustrations, these short, funny stories are perfect for readers just moving on from picture books and visual readers.  See also Princess Minna: The Enchanted Forest
Find out more in this video & Q&A from author Kirsty Applebaum
Reviews
Lucy
Princess Minna: The Unicorn Mix-Up is a perfect combination of a chapter and picture book! These stories are perfect for children who are beginning to move away from picture books and are starting to work up to reading their first chapter books. It's filled with brightly coloured illustrations and uses large, simple text which is friendly to young readers. The story follows a princess called Minna who lives in a castle with her mum, her dad and a wizard. She has many adventures involving unicorns, frogs and dragons! At the back of the book, there is a page of stickers so children can customise pages with different characters and animals. This would allow them to adapt the story and start to take their own twists and turns by telling their own stories.
Picture Book / Reviewed by Lucy Newton
Suggested Reading Age 7+
Lauren
Princess Minna and The Unicorn Mix-Up is another story in The Princess Minna series. It tell the story of Princess Minna, who loves to do Princess things, like save the day, kiss a frog, tame a Unicorn and of course eat cake! However, on this day Princess Minna has not slept well; normally if a Princess does not sleep well it is because they have peas under their beds! Minna does not think it is because of peas today.
When she gets out of bed there is something strange happening in the castle, seagulls have taken over and scared the doves away. There are feather everywhere and the castle is in disarray! Princess Minna to the rescue! However, with a lack of sleep she gets rather mixed up trying to save the Kingdom. Can she save the Kingdom and make it smell like tutti-frutti ice cream once again - and what about the blackbirds…?
I found this book hilarious and full of little quips that adults would find funny when reading this with a child. The illustrations by Sahar Haghgoo are beautiful and vibrant and fit the story perfectly. I would thoroughly recommend these books to children that are just stepping away from picture books and looking for more of a challenge in their reading. They are fun to read and can be read in small chapters at a time.
96 pages / Reviewed by Lauren Maidman, teacher
Suggested Reading Age 5+
Other titles