Princess Minna: The Enchanted Forest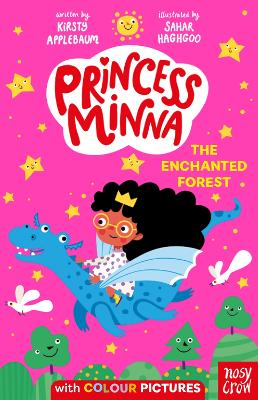 By Author / Illustrator
Kirsty Applebaum, illus Sahar Haghgoo
Genre
Fairy Tales & Folk Tales
Age range(s)
5+
Publisher
Nosy Crow Ltd
ISBN
9781788009539
Format
Paperback / softback
Published
05-05-2022
Synopsis
Princess Minna loves to sort out mix-ups and mishaps in the kingdom! In this full-colour, illustrated chapter book, join her on a funny, exciting adventure to wake a sleeping prince and much more - all in time for tea. Princess Minna lives in Castle Tall-Towers with the King and Queen, Raymond the Wizard and her best dragon friend, Lorenzo. There are often mix-ups and mishaps in the kingdom and Princess Minna loves to sort them out! She can tame unicorns, kiss frogs and fight dragons (apart from Lorenzo) and she is very good at fixing things before it's time for bed.   In The Enchanted Forest, Princess Minna has to wake a sleeping prince before nightfall. But along the way, she finds a swan, an old lady and a very fluffy sheep - all of them in a fix! Can she help them and still reach the prince before sundown?
Full of colourful illustrations, these short, funny stories are perfect for readers just moving on from picture books and visual readers. See also Princess Minna: The Unicorn Mix-Up
Find out more in this video and Q&A by author Kirsty Applebaum
Reviews
Lauren
Princess Minna and The Enchanted Forest is another story in The Princess Minna series. Princess Minna loves to save the day and when she wakes up, there is more chaos in the Kingdom. Prince Welling-Tunboot is turning 10. However, a rather horrible curse has been placed on his tenth birthday by a bad fairy. If he pricks his finger he will fall asleep and by the time the sun goes down he will never wake again. Unfortunately the Prince and the whole household have fallen asleep and it is down to Minna to save the day!
However, her mission to save the prince is interrupted many times by the animals and old women of the kingdom and time is running out; she has to defeat the guards, get through the thorny bushes and wake the Prince. The questions is, can she do it?!
The Princess Minna books are full of fun and giggles and I have enjoyed reading this. They are perfect books for children looking for more of challenge in their reading and stepping away from short stories or picture books for the first time. I love the illustrations of these books as they really bring the story alive. Thoroughly recommend.
96 pages / Reviewed by Lauren Maidman, teacher
Suggested Reading Age 5+
Lucy
A lovely, colourful story for early readers! The Princess Minna series is a great series for children who are moving away from chapter books and building their stamina to start to read chapter books. It has large text and relatively short chapters to avoid overwhelming children. The pages are covered in colourful pictures to enhance children's understanding and interest.
The story itself involves Princess Minna, a castle, a flying dragon and a magic potion - what's not to love? I think children will enjoy the adventurous story following Princess Minna in her attempts to wake the sleeping prince. There's also a sticker page at the back of the story which children will love. They could use them to add to different pages of the story to create their own adventures and alter the storyline to tell to others.
96 pages / Reviewed by Lucy Newton, teacher
Suggested Reading Age 5+
Other titles