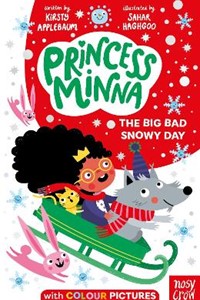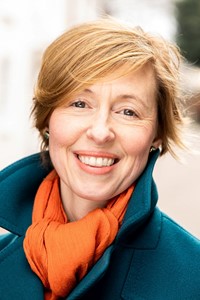 About Author
Kirsty Applebaum talks to ReadingZone about her new series of books for younger readers, which begins with Princess Minna and the Enchanted Forest.
Kirsty is the award-winning author of books including The Middler, Troofriend and The Life and Time of Lonny Quicke (Nosy Crow Books).  She was born in Essex and grew up in Hampshire. She has had a wide variety of jobs including bookselling, railway re-signalling, picking stones off conveyor belts, putting lids on perfume bottles and teaching Pilates. She now lives with her husband on top of a hill in Winchester. 
Interview
Princess Minna: The Enchanted Forest  (Nosy Crow Books)
May 2022
Princess Minna is a brave and bold princess who loves sorting out problems in the kingdom. In this new series of books for children aged five plus, we discover the Enchanted Forest and see Princess Minna make friends with frogs and unicorns, fight dragons and solve a problem or two.
Read an extract from Princess Minna: The Enchanted Forest / Princess Minna: The Unicorn Mix-Up
Competition to win a set of Princess Minna books
In this video and Q&A, author Kirsty Applebaum tells us what inspired the Princess Minna books, how she plays with fairytales in the stories, and how the books can be used to support early readers.
Q&A with Kirsty Applebaum
1. We know you for books like The Middler and Troofriend, so what brought you into writing books for younger readers?
I actually wrote early drafts of the first two Princess Minna stories (The Unicorn Mix-Up & The Enchanted Forest) way back in 2015, when I was on an MA course in Writing for Young People at Bath Spa University. The Middler wasn't yet finished and the idea for TrooFriend hadn't even occurred to me at that point! We were asked to write an early chapter book for young readers, so I wrote about a little princess who likes to sort out all the problems in her kingdom.

2. Can you tell us a little about Princess Minna's world?
Princess Minna lives in Castle Tall-Towers with the King, the Queen and a wizard called Raymond. When all is well in the kingdom, doves sweep and swoop around the towers making the castle smell like tutti-frutti ice cream.
When all is NOT well in the kingdom, seagulls fly up from the coast and scare all the doves away. They make the castle smell like old seaweed! Whenever Princess Minna sees the seagulls, she knows there's a problem in the kingdom and she sets out to put it right. She's very good at getting everything sorted by bedtime.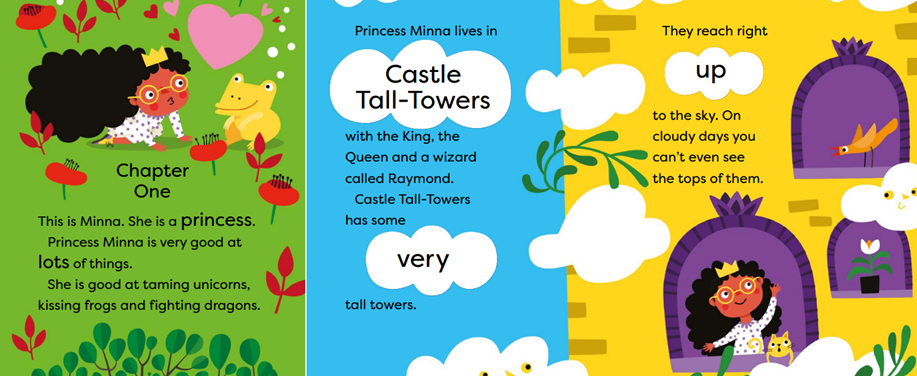 3. Did you enjoy playing with the fairy tales in the stories? 
It was so much fun! I loved fairy tales when I was a child (actually, I still love them now) and I've used many of them to inspire the Princess Minna books. Readers might be able to spot them within the pages. For example, The Unicorn Mix-Up was inspired by The Princess and the Pea; and The Enchanted Forest was inspired by a fairy tale called The Old Witch.
The third book, due to be published in autumn 2022, is inspired by my favourite fairy tale, Little Red Riding Hood. But it's ok if readers don't know these original fairy tales - I've created whole new stories in the Princess Minna books so they can be enjoyed whether the reader recognises the original fairy tales or not.

4. What inspired Princess Minna and her feisty independence?
I wanted to create a princess who actively solves problems herself, rather than one who waits for someone to rescue her - and her character grew from there. The King and Queen love her very much but they're not very good at sorting things out, so she's very independent! Princess Minna does get a little help from her friends though, including Lorenzo the dragon, Raymond the wizard and the children of the town.

5. What in the stories made you laugh the most?
Writing the King & Queen and Lord & Lady Welling-Tunboot made me laugh a lot. They want to do things like play musical statues all day instead of doing more serious jobs in the kingdom - and they forget REALLY important things! It was also great fun writing Lorenzo the dragon - he loves his mum so much!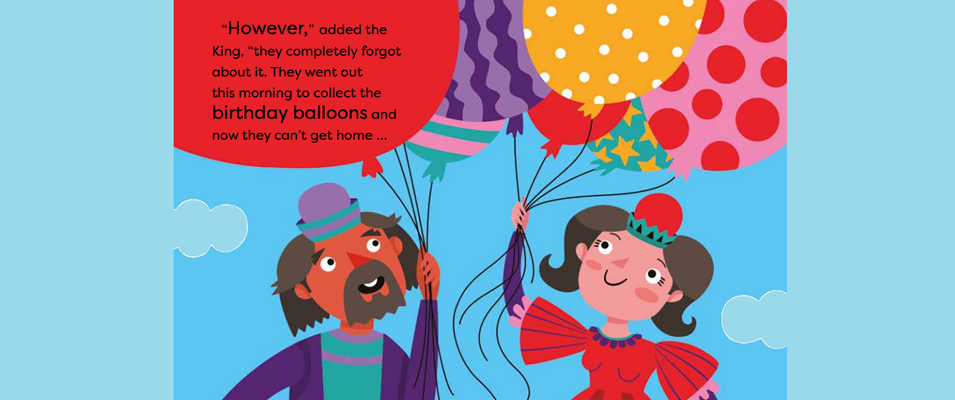 6. Do you also hope the books will help support early readers?
Yes, I hope the books will be fun and motivating for developing readers. I've used repetition, alliteration and rhythm to make the reading experience enjoyable - and of course the beautiful illustrations by Sahar Haghgoo will enhance that experience too.
The P shop, B shop and T shop - which only sell things beginning with those letters - were brilliant to write about; I hope they will help children in their reading journey and be lots of fun at the same time. I've brought the shops into several of the other books in the series too because I find they can add a really entertaining aspect to the plot.

7. We love the look of the books - did you always plan for full colour illustrations?
The look of the books is all down to the designers at Nosy Crow and the illustrator, Sahar Haghgoo - and haven't they done a wonderful job?! I don't tend to think very visually when I write - the only thing I knew for certain was that I wanted Princess Minna to wear glasses - so I was very happy to leave the artists to come up with the whole visual side of things. I am very lucky to have such a great team transforming my stories into these beautiful books.

8. What do you think of how the characters and Enchanted Forest are depicted? Any favourites?
I absolutely love them! I have a particular soft spot for Little Pippi, Little Betty and Little Tommy in The Unicorn Mix-Up - Sahar has made the three of them all so different and quirky. And I love all the little creatures and trees Sahar has created for The Enchanted Forest. Oh, and the smiling sunshine with little circles for rays - it's so original! I also really like the patterns and colours on the floors and walls inside Castle Tall-Towers and Tunboot Palace - I'd like those in my house!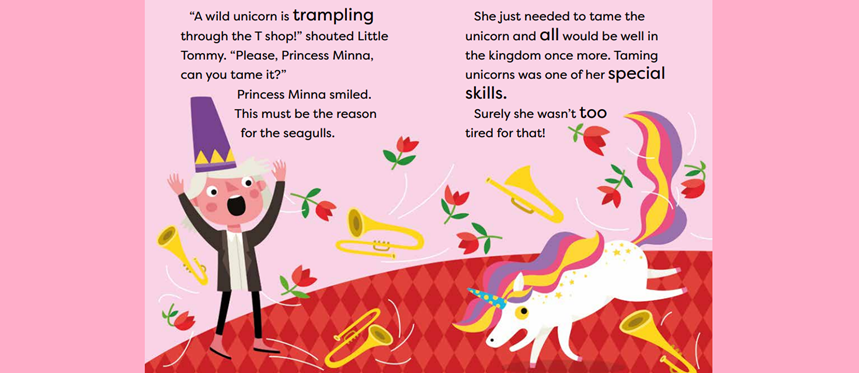 9. How long does it take you to write these books and what helps you along? 
I mind-map the stories first - this helps me to find a well-shaped, satisfying plot. It can take several weeks or even months to come up with a workable story plan. I mind-map lots of different ideas at first, then I let them brew in the back of my mind and eventually one will begin to emerge as a viable story. After that, the first draft takes me perhaps a month or so to write. Once I'm basically happy with it, it will go through an editing process with my fantastic editor at Nosy Crow, and we end up with a tighter, punchier story as a result.

9. Will we be seeing more of Princess Minna and her Enchanted Forest? Are there parts of the Enchanted Forest we haven't seen yet?
We will definitely be seeing more of Princess Minna and, yes, the Enchanted Forest does indeed feature in some of the later books. There is something that lies beyond the Enchanted Forest that we haven't yet seen! We will also venture into other parts of the kingdom; for example, in the third book, Princess Minna finds herself on the Mystical Moor.

10. Are you planning to do school events for the books?
Yes - I'm really looking forward to doing school events for the Princess Minna books. I'll be offering talks (both in-person and virtual) which involve a storytelling and a Q&A, plus writing workshops inspired by the books. The sessions will be suitable for pupils in Reception, Year 1 & Year 2. You can find out more information on my website.

11. What else are you writing?
I am currently writing two books - a new Princess Minna story and a fourth book for 9-12 year-olds. I can't tell you too much about them, but the Princess Minna story involves a lot of dancing and the older children's book involves a mysterious disappearance.

12. And finally, what do you enjoy doing to relax when you're not at your desk?
When I'm not at my desk I like to go for walks and sing songs with my guitar - but not both at once!
Kirsty Applebaum video - Troofriend
Kirsty Applebaum video - The Life and Time of Lonny Quicke Or on YouTube
Author's Titles