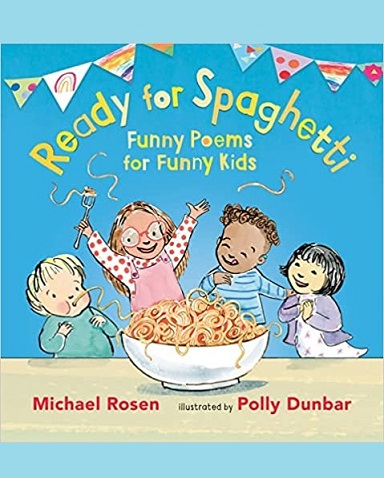 By Author / Illustrator
Michael Rosen, Polly Dunbar
Genre
Poetry
Publisher
Walker Books Ltd
ISBN
9781406377644
Format
Hardback
Published
02-06-2022
Synopsis
From two of the biggest names in children's publishing, this is an inspiring guide to wordplay for young readers, their parents and teachers.
I'm ready for spaghetti
Will you getti the spaghetti?
Don't say, "Not yetti spaghetti!"
'cos I'm all setti for spaghetti.

Fizzing with rhythm, energy and laughter, the 30 poems in Ready for Spaghetti delight in the details of children's daily routines. "Up, up, uppity-up!", the first poem announces, while the artwork shows a child leaping out of bed, ready to begin their morning; "Hush and a hush, soft and low", chants the final poem, as children snuggle under their blankets after their day's adventures. Full of affectionate observations of young children, which are beautifully continued in Polly Dunbar's warm-hearted pictures, Michael Rosen's poems are ideal for reading aloud with toddlers... and many grown-ups will soon know them by heart!
Reviews
Sue
In Ready for Spaghetti, Michael Rosen has created a series of poems which capture moments of a child's day from getting up in the morning to going to bed in the evening. Each is full of word play, perfect for encouraging children to join in and experiment with language.
Full of fun and energy, the playful nature of the poems will soon make them firm favourites, easy for children to learn and share as they go about their daily activities. Humour permeates the collection as Michael Rosen pauses to observe the smallest details - playing in a paddling pool, building a sandcastle, having a rumbly tummy - which Polly Dunbar captures perfectly in her irresistible illustrations.
Perfect for sharing, Ready for Spaghetti is a wonderfully creative and imaginative collection!
64 Pages / Reviewed by Sue Wilsher 
Suggested Reading Age 0+
Other titles