Rise of the Slippery Sea Monster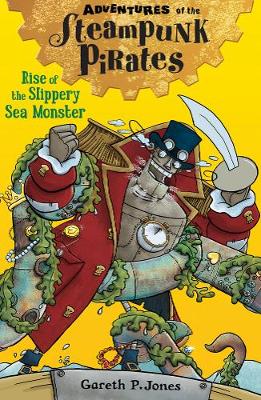 By Author / Illustrator
Gareth P. Jones
Genre
Adventure
Age range(s)
7+
Publisher
Little Tiger Press Group
ISBN
9781847156648
Format
Paperback / softback
Published
07-01-2016
Synopsis
Wanted: Dead or Alive! (Or smashed into little bits and delivered in boxes.)
The Steampunk Pirates get a taste of their own medicine when the Leaky Battery is raided by a sea monster that's greedy for gold. But when the rusty robots race to get their treasure back, they sail straight into a trap... Can they dodge the creature's twisting tentacles or will they be squished to smithereens?...
This hilarious series from Gareth P. Jones, author of Ninja Meerkats, is sure to delight young readers with its madcap humour and larger-than-life robot pirate crew. Perfect for fans of Jonny Duddle's The Ghostly Galleon and the Space Pirates books who looking for more swashbuckling action!
Reviews
Emily
The fourth book in the Steampunk Pirate series tells the story of role reversal for the crew of the Leaky Battery. Still wanted by their owner, the King of England, they find themselves the targets of piracy when their own stolen gold is stolen from them. Captain Clockheart, Lexi, Gadge and cabin boy/girl Pendel at first suspect one of their own - First Mate Mainspring. After a dubious trial, the proposed punishment is to be marooned on a desert island. The Steampunk Pirates learn they are not the only ones to have lost their recent treasure haul, when the dread captain Inkybeard arrives on the scene with his new cabin boy Kidd. When Kidd suggests that the stolen treasure is linked to the Slippery Sea Monster the Pirates are convinced that they should follow the monster to its underwater lair to take back what is rightfully theirs. Unbeknown to them, cabin boy Kidd has masterminded an elaborate plot to recover his father's lost fortune. In the end, the crew of the Leaky Battery triumph, recover their treasure and then some, and learn that freedom is more important then gold and jewels; and most importantly - you can't trust a pirate! With more twists then the storyline of a Star Wars movie, and hilarious, fast-paced dialogue from well-constructed characters, the forth book in the Steampunk Pirates series is hard to put down. Recommended for anyone who enjoys a fast paced pirate tale, or a book with gadgets (especially of the steam powered variety). 160 pages, illustrated / Ages 7+ / Reviewed by Emily Beale.
Suggested Reading Age 7+
Other titles