Robin Hood 3: Jet Skis, Swamps & Smugglers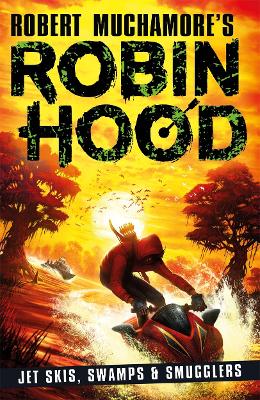 By Author / Illustrator
Robert Muchamore
Genre
Adventure
Age range(s)
11+
Publisher
Hot Key Books
ISBN
9781471409493
Format
Paperback / softback
Published
08-07-2021
Synopsis
Robin and Marion are taking on the authorities again in the third action-packed adventure from international bestseller Robert Muchamore. There's a price on Robin's head, one that has attracted a gang of ruthless mercenaries who are determined to track him down and hand him over to Guy Gisborne. So Robin is hiding out by the sea, but trouble has a way of finding him. Before long he is helping to rescue refugees and trying to avoid the attentions of Customs and Immigration officials. Then he and Marion discover a people-smuggling operation: desperate people brought into the country to work in slave-like conditions making cheap goods. It's only a matter of time before the two of them are trying to find out who is behind it - and Robin is again making the headlines with spectacular raids on the rich and powerful.
Reviews
Joanna
The third installment of the fantastic Robin Hood series by Robert Muchamore and this one is just as fast paced, thrilling and jam packed as the first 2 books. Jet skis, Swamps and Smugglers see's Robin now in hiding from the evil gangster Guy Gisborne and the Sheriff of Nottingham - Marjorie Kovacervic. The previous books have seen Robin, a 13 year old from Nottingham, fighting for justice for his city and to free his father who has been wrongly imprisoned. Robin be-friends the forest dwellers of Sherwood forest, in particular Marion Maid, his new best friend. But now Robin and Marion are in danger and are sent to the Eastern Delta swamp to hide out from the evil gangsters of Nottingham.
As we have seen from previous books, sitting still and in hiding isn't easy for Robin and he soon finds himself caught up in a new rescue mission, rescuing the innocent and bringing justice to those less fortunate than himself. In this book, Robin discovers a secret illegal encampment of illegal immigrants, those brought by force on a boat to work endless hours in a dirty shoe factory. Robin quickly puts together a team to set free these innocent women and before you know it, he is jumping on roof tops, driving jet skis and flying bomb lit arrows at 'the bad guys.'
Robert Muchamore doesn't let the reader down with this third installment of this series. It jumps into the action right and engages the reader with the exciting adventures of Robin Hood, legendary archer. It is so easy to see why so many boys love these books; the chapters are just the right length, the chapters are filled with action and the characters are all so varied and interesting. From the good guys to the bad guys, there is just so much to love about these books and my teen students are always eagerly awaiting the next in the series. Thrilling from start to finish, Robin's adventures are a great read for any teen reader who love a fast-paced, action-packed modern day hero.
256 pages / Reviewed by Joanna Hewish
Suggested Reading Age 11+
Julie
Robin Hood: Jet Skis, Swamps and Smugglers is the third book in this action-packed adventure series by the master storyteller Robert Muchamore. In this thrilling third instalment, we find our hero Robin Hood has had to flee from the safety of his compound in Sherwood Forest. For Robin is no longer safe in the forest; the wicked Guy Gisborne is determined to track him down and has placed a huge bounty on his head. A gang of mercenaries are now hot on Robin's trail.
Unbeknown to Gisbourne, Hood and Marion are in hiding in the swampy Eastern Delta. All they have to do is lie low and stay out of trouble. However, the peace and quiet of the Delta does not last long as Robin and Marion soon discover themselves helping to rescue refugees. Whilst there, they also unearth a huge people smuggling operation. It is only a matter of time before they are once again in the headlines.
Set in the modern-day, this series goes from strength to strength. The action sequences are bigger and even more fast-paced. The setting of a swampy delta gives us more thrills than before as we find our hero racing around on jet skis, trying to out-wit spy drones, fighting off water snakes whilst being pursued by corrupt cops and mercenaries.
This book is a real page-turner, filled with adventure, plot twists, lovable heroes and despicable villains. This series of books is an absolute hit with our KS3 students. The short, punchy chapters make it suitable for all types of readers. The story-line is exciting and definitely leaves the reader wanting to read more. This series has a really wide appeal to a variety of young people and is not just for Robert Muchamore fans. A must read for those who love a rip-roaring, high-octane adventure story. 
256 pages / Reviewed by Julie Broadbent, school librarian
Suggested Reading Age 11+
Other titles