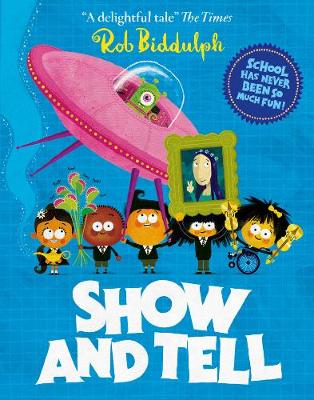 By Author / Illustrator
Rob Biddulph
Genre
Funny Stories
Age range(s)
5+
Publisher
HarperCollins Publishers
ISBN
9780008318031
Format
Paperback / softback
Published
06-02-2020
Synopsis
The funny and fantastic back-to-school picture book from the creative genius behind the #DrawWithRob phenomenon and the bestselling and award-winning Blown Away!
School has never been so fun!
Meet Class 2L. These kids are excited.
Today's SHOW AND TELL day, and you're all invited!
Come and be schooled in magic and wonder in this incredible story about how biggest isn't always best! From the bestselling and multi-award-winnning Rob Biddulph, creator of the internet phenomenon Draw With Rob as seen on YouTube, FaceBook, Instagram, CBeebies and TV news everywhere, and the Waterstones Book Prize-winning Blown Away!!
Packed to the brim with his trademark warm humour, life lessons and pitch-perfect rhyme, this is a story to read together, laugh out loud at, and enjoy over and over again.  The perfect book for boys and girls of 4+, to share with their families or enjoy alone.
Reviews
Sue
It's show and tell time and Class 2L are full of enthusiasm and excitement. Mr Lumsden, their teacher, is offering a prize for the child who impresses him the most. Adam starts off with his treasure and each child who follows tries to outdo the one before. However will Mr Lumsden decide?
Rob Biddulph's books are always a delight and this is no exception. Told in bouncy, rhyming text, Show and Tell is a real joy to read aloud. The antics of the children and their attempts to upstage each other are wonderfully silly, but the language used is carefully chosen and interesting, offering plenty to discuss and enjoy.
The objects the children bring could also lead to much sharing and learning - why do we assume the monster is from Loch Ness? Where is that? What are Venus flytraps? Why are they snapping? And so on! The children's names are in alphabetical order and the opening pages show their names on their drawers (some with a silhouetted clue about their show and tell poking out) before we see the children sitting at their desks, ready for action, each with an alphabet card on their desk. This would be great for teaching the names of the letters of the alphabet (not the sounds) and alphabetical order.
Full of fabulous illustrations, each page is a joy to explore and there is the added bonus of a list of 'five things to be found in this book'. The observant reader will also enjoy following the adventures of the class pet. Even the cover is beautiful; remove the dust jacket to reveal even more pictures!
Ending with a lovely reminder about the importance of valuing the simple things in life, Show and Tell is a brilliant story which is sure to become a firm favourite.
Picture book / Ages 4+ / Reviewed by Sue Wilsher, teacher
Suggested Reading Age 3+
Other titles