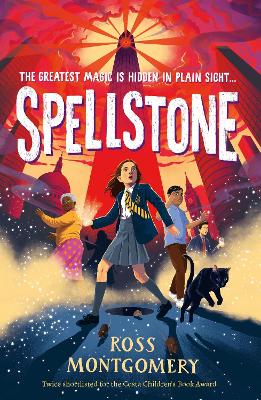 By Author / Illustrator
Ross Montgomery
Genre
Fantasy
Age range(s)
9+
Publisher
Walker Books Ltd
ISBN
9781529501933
Format
Paperback / softback
Published
04-05-2023
Synopsis
Discover a world of magical storytelling from a twice Costa-shortlisted author  "One of our finest children's writers." Phil Earle.  "A master storyteller." Aisling Fowler.  "Another absolute triumph from one of my favourite children's authors." Catherine Doyle.

The greatest magic is hidden in plain sight...  Evie is used to not being noticed. But when she meets the mysterious Wainwright, she discovers that going unnoticed might just be what makes her unique. Recruited into a secret magical organization, Evie finds herself at the heart of an ancient and magical battle. Evil is returning to the land, and Evie is the only person who can stop it. But how can she defeat the most dangerous magician in the world, when she doesn't even know her own powers?

Don't miss Ross's other fantasy novels for young readers:  The Midnight Guardians ;   The Chime Seekers
Praise for Spellstone:  "The very definition of a page-turner: riveting, punchy, with surprises around every bend. Ross is a flawless storyteller." Carlie Sorosiak.  "Another absolute triumph from one of my favourite children's authors. Spellstone is both heartfelt and humorous, while fizzing with magic and fun." Catherine Doyle.  "A cinematic roller-coaster ride of a book, magical through to its shining core." Katharine Orton.  "Ross Montgomery just gets better and better! Crackling with magic and swirling with mystery, Spellstone had me enchanted from the first page." Jennifer Bell.
Find out more from author Ross Montgomery
Reviews
Jacqueline
Evie is an ordinary twelve-year-old girl. Sher feels invisible much of the time and that no-one seems to notice her much. One day she meets a strange man who tells her she has magical abilities and is part of the ancient Order of the Stone. Together with the other members of the Order, she must defeat the evil magician, Vale, and prevent him from finding the powerful Spellstone and unleashing evil on the whole world.
This summary of the story does not really do justice to the plot. The plot is full of depth and emotion and delves deeply into the notion of good and evil and what magic we really possess inside each of us. Each character comes vividly to life in the reader's imagination and they are brought to life on the front cover by David Dean.
I was hooked from the first page by this ancient battle between good and evil. I could imagine London sweltering in the heat and the Roman walls of the City and all the action that takes place there. Suitable for 9+, this is a thrilling fantasy adventure that is sure to find many fans.
336 pages / Reviewed by Jacqueline Harris, teacher
Suggested Reading Age 9+
Louisa
Spellstone is a gripping piece of storytelling for lovers of fantasy fiction. The bones of the plot are familiar: a renegade wizard turned evil who is hunting down the good wizards; a mysterious Spellstone which will make him unstoppable; and a 12-year-old sorceress - courageous but inexperienced - who is all that stands between him and world domination.
The telling of it, though, is imaginative and exciting and the intricacies of the story are original, so it wrapped itself around me and I had to read it - quick, quick - to the end. For a couple of hours, I was so absorbed that everyday life melted away.
Complicating the action and providing moments of humour (so often missing in fantasy fiction) is the clever conceit that all wizards have different magical powers - some more useful than others. One of the last remaining wizards can only make glasses of water appear from thin air. 12-year-old Evie, the heroine of the book, doesn't even know what her power is when she abruptly finds herself as leader of the wizarding order and responsible for saving humanity. Of course this means that teamwork is crucial and, of course, even the glasses of water eventually come in handy - although to say more would be a spoiler.
All in all, Spellstone is a rollicking good tale, highly recommended for all primary school libraries. For anyone who loved The Midnight Guardians, this is a good follow up; naturally, it's also perfect for fans of Harry Potter.
336 pages / Reviewed by Louisa Farrow, teacher
Suggested Reading Age 9+
Other titles