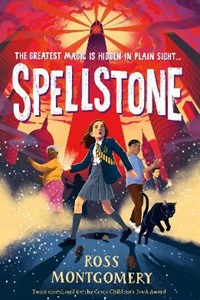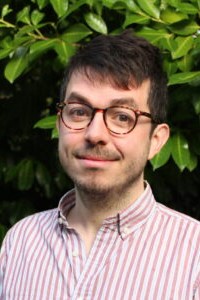 About Author
Ross Montgomery started writing stories as a teenager, when he should have been doing homework, and continued doing so at university. His debut novel, Alex, the Dog and the Unopenable Door, was shortlisted for the Costa Children's Book of the Year and Branford Boase Award. It was also selected as one of the Sunday Times' "Top 100 Modern Children's Classics". His books have also been nominated for the CILIP Carnegie Award, while his picture book Space Tortoise was nominated for the Kate Greenaway Award and included in the Guardian's Best New Children's Books. He lives in London with his girlfriend and their cat, Fun Bobby.
Interview
Spellstone   (Walker Books)
May 2023
In Spellstone, Ross Montgomery (author of The Chimeseekers, The Midnight Guardians) takes us to a London where magic really exists, just out of sight. When Evie discovers she is part of this magical world, she also learns about a battle between good and evil that has been fought for hundreds of years - and that she must play her part in what happens next....   
Ross Montgomery tells ReadingZone more about what inspired the story, how he creates his characters, and what he'd like his readers to take from Spellstone.
Read an Extract from Spellstone 
5* Review:  "I was hooked from the first page by this ancient battle between good and evil." 
Q&A with Ross Montgomery
1.   Can you tell us a little about life as a children's author? Highs and lows?
Both the highs and lows come in writing, I think!  When writing is good - it's the best thing in the world - there's nothing better than being surprised by your own ideas, watching a story finally make sense in front of you. On the other hand, when it's bad and the story simply won't work, it's torture!

2.   What has been your stand-out moment as a children's writer?
I think it might have been when I found out that The Midnight Guardians was going to be Waterstones Children's Book of the Month. I've never had anything that got my book into the hands of so many readers before!

3.   What is your new book, Spellstone, about?
Spellstone is about a girl who discovers that she has hidden magical powers, and that she's going to be the secret weapon in a magical war that has lasted for thousands of years. It's also a story about the things around us that we often forget to see, or overlook... a whole world of magical, hidden in plain sight!

4.   What inspired the germ of the story; that monsters really exist?  
Spellstone had a slightly longer germination time than my other books - when I first imagined it, the story was completely different and set in a sort of Victorian parallel universe! My publisher made me simplify the story a huge amount, which it really needed. But the heart of the book was always the same: the idea that underneath everything is a world of magic that no one sees. I think the very first seed was stumbling on a magic shop hidden underneath Charing Cross station, which is sadly no longer there!

5.   How did you decide what the magicians in the story would be like, and what magic they could do? Any favourites among the group?
A lot of their powers were obvious to me - the magicians have survived because they have skills that help keep them hidden. So one can walk through walls, one can turn into animals... I was also thinking about people that we tend to overlook on the street. So one character is an old lady, one is a homeless man, one is a black cat etc! I also thought it would be funny if magical powers aren't necessarily very good - one of the magicians, Onslow, is able to make a glass of water appear in his hand at will. That's it.
It would be mean to pick a favourite, but I think Lady Alinora - a posh lady who spends most of the book turned into a talking cat - has always been the most special to me. There's something about being insulted by a snobby cat that feels very true to life.

6.   How did you choose your setting for this novel, and how did you adapt it for your world?
For me, the book was always set in London - in the finished book, it's more like an imaginary city that's extremely similar to London! Lots of real life features from the city are in the book - the Roman walls, Postman's Park, the underground rivers. Researching and exploring them was probably my favourite bit!

7.   How did the sinister smoke-men develop? Can you remember what inspired them?
I knew that the baddie of the book, Vale, would need an army of henchmen - I loved the idea of there being a whole army of magical people out there that you never noticed. For me, there's something so sinister about the streets being filled with mindless, evil men made of smoke, who look just like real people - a real INVASION OF THE BODYSNATCHERS feel.

8.   We hear a lot about children who feel invisible in this story - what would you like readers like them to take from Spellstone?
As a teacher, you meet a lot of children who are slightly overlooked in class. They're the ones who never quite stand out - they're not particularly loud, or super intelligent, and never get into trouble, but if you start looking carefully you find that they're often the glue in their friendship networks, or work really hard to help things get along. I hope that there are children who read Spellstone and recognise that in themselves - that you don't have to stand out or be exceptional to matter.

9.   What are your top three tips for writing great fantasy worlds?
1.   Start with a recognisable world, and then change one thing. It's easier - particularly for children - to see the difference that that would make.
2.   Don't get too bogged down by the rules! At every point, try and make it as simple as you can - if you can't there's probably a reason for that.
3.   Have fun with it! Don't just think about the big stuff - think about how the small stuff could be different in your world, too. Children love reading about different food and drink, for example!

10.   What does a day relaxing away from your desk look like for you?
Wandering around and discovering new things - I love to go exploring, or taking a turn around places I know like the back of my hand. I think I might actually be a dog.
Author's Titles