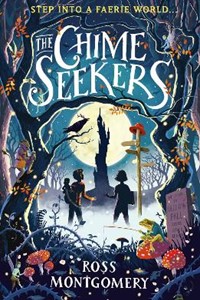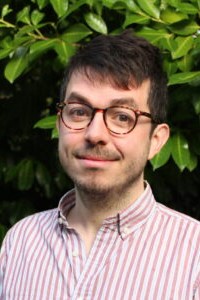 About Author
Ross Montgomery started writing stories as a teenager, when he should have been doing homework, and continued doing so at university. His debut novel, Alex, the Dog and the Unopenable Door, was shortlisted for the Costa Children's Book of the Year and Branford Boase Award. It was also selected as one of the Sunday Times' "Top 100 Modern Children's Classics". His books have also been nominated for the CILIP Carnegie Award, while his picture book Space Tortoise was nominated for the Kate Greenaway Award and included in the Guardian's Best New Children's Books. The Midnight Guardians, Ross's first fiction novel with Walker Books, was selected as a Waterstones Children's Book of the Month and is garnering huge praise. He lives in London with his girlfriend and their cat, Fun Bobby.
Interview
The Chime Seekers (Walker Books)
November 2021
In The Chime Seekers, two children step into faery land to rescue a stolen baby. What follows is an eerie, edge-of-your-seat adventure. We asked author Ross Montgomery to tell us more about The Chime Seekers, and about his writing.
Download a chapter extract from The Chime Seekers
Watch The Chime Seekers' book trailer:
Q&A with Ross Montgomery
1. Can you tell us a little about your life as a writer? Where and when do you prefer to write?
I always do my best writing in the morning, between 8am and midday - I can do it after, and editing I can do all day if need be, but for fresh writing I can only really manage about 2-4 hours a day maximum. I used to love writing in noisy cafes and busy libraries, but I had to learn to stop doing that during the pandemic. That actually suited me well, because it was costing me an absolute fortune in pastries!

2. What is your new book, The Chime Seekers, about? Is it a very different book from your earlier titles?
I suppose in a way it mixes a couple of different previous books - the magic of THE MIDNIGHT GUARDIANS, the fiendish horror of CHRISTMAS DINNER OF SOULS, the caring-for-a-child plot of PERIJEE AND ME.
Yanni's baby sister is stolen by an evil faerie, and he has to travel into the faerie realm to get her back. His only hope is that he can complete a series of challenges set by the faerie, but he has to do it with a feral changeling shackled to his wrist...

3. What drives your stories when you're writing them, the characters or the plot?
I really would like it to be the characters - for me, that seems like an extremely sensible way to write. Create a character that feels real and relatable, then let them lead you through the story... but I'm an idiot, and I always do plot first and then reverse-engineer characters out of it!! It is very inefficient, HIGHLY stressful, and infuriatingly it's probably the only way I'll ever write. Wah.

4. What sparked the first ideas for The Chime Seekers? Is the final version very different from what you had first planned?
I wrote the entire book in lockdowns, but I already had a chapter-by-chapter plan in place when I started the first draft. Even so, I'm certain that the sinister, otherworldy feeling during that first lockdown permeated the book somehow, which is why I think it came out so creepy.

5. The Chime Seekers takes us into the world of the fae - did you do much research into this, and are there any stories about faeries that you found that stood out for you?
I didn't do quite as much research as I wanted to - again, because of lockdowns! I read THE SECRET COMMONWEALTH OF ELVES, FAUNS AND FAERIES by Rev Robert Kirk: I read a lot of Katherine Briggs; I read some Kevin Crossley-Holland; I read TAM LIN and all kinds of different folk tales. I think the first seed of what kind of faerie I wanted was JONATHAN STRANGE AND MR NORREL - Lorde Renwin, the evil faerie lord of the manor in my book, is cut from the same cloth as the Gentleman with Thistle-Down Hair.

6. How did you go about world-building the Land of Fae, what were your rules? Did you draw a map of it to help you find your way around?
Hahaha, no rules at all!! I had zero inspiration, as I was stuck in my flat all day, and so I went through all my old notebooks and read all of my old notes - the snatches of imagery that I'd come up with over years of going around the country, that had never come to anything. I literally picked and chose scenes and set pieces, settings and quests that I thought fitted nicely together, arranging them like a vase of flowers.

7. How well equipped, or not, is your main character, Yanni, to deal with the faeries he will come across during his adventures?
This is a good question. I would say, in many respects, not at all well-equipped: when the story begins he's at a crossroads in his life, and whether he realises it or not, he's trying to work out what kind of person he wants to be. He's not a child any more, but he's not ready to be a young adult either. In order to triumph and save his sister, he has to learn to know himself. But in another way, that uncertainty and immaturity is what helps him understand the way out, too.

8. Yanni and his cousin Amy have to face a number of challenges to get back his sister. Why did you decide to link this to ideas around immersive board games?
In 2019, my friend Jules (who the book's dedicated to!) started being a Dungeon Master and invited me to play Dungeons & Dragons with him. I'd never fully understood how it worked, so I took part and found it so interesting: the rules and guidelines are so complex and tight, yet it allows for so much to happen within it. I liked the idea that Amy's wealth of "fantasy knowledge" would give them a foothold in this world: but at the same time, fantasy literature would only take them so far!

9. There are some wonderful characters in the book, who is your favourite supporting character, and did any of the characters take you by surprise?
I really do like how the signpost came out - people seem to really like him! I also love the stone frog, who's based on an actual frog statue I've had for years that I keep giving to people as gifts (he's currently in Stroud). However I think Gustiver, the raven with antlers, might be my favourite. I got the idea while watching a crow eat out of a bucket of KFC, and then fly away with a wishbone perfectly poised in its beak.

10. Is there a sentence or two in the story that stands out for you?
None I can say without giving away key details of the book!! However, I think I can say that at the heart of the story is a line from the last page: "He felt as if he was seeing the beauty of the world for the first time". I remember the exact instance I went from being a child to a young adult: looking out of a train window, and knowing that what I saw was beautiful, without needing to be told it was.

11. Other than a great story, what would you like your readers to take from The Chime Seekers?
It's a story about growing up: about what it means to be at the exact point between childhood and adolescence, and not knowing how to pass on. I think I'd like them to know and accept change: that change can be frightening, but that what comes out the other side is always better for having gone through it.

12. Will you be returning to the Land of Fae? What are you writing currently?
I'm currently about to start the second draft of my next MG book, currently due for publication in June 2023 (!!) and called The Stone Callers. It's about a girl who discovers a secret society of magicians, fighting an ancient battle between good and evil in the city streets.

13. What do you enjoy doing when you're not at your desk?
I've always loved walking around and exploring: even taking a slightly different route to the bus stop fills me with wonder.
Author's Titles