SuperQuesters: The Case of the Missing Memory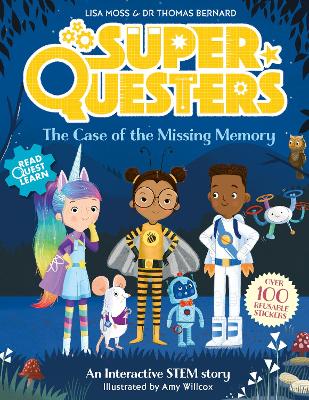 By Author / Illustrator
Dr Thomas Bernard, Lisa Moss, Amy Willcox, Sophie Stericker
Genre
Adventure
Age range(s)
7+
Publisher
QuestFriendz
ISBN
9789082994049
Format
Paperback / softback
Published
01-11-2022
Synopsis
A STEM-sational series which inspires a love of STEM learning in children aged 4-8 through a unique blend of adventure stories and interactive play. Read the book, solve the quests using stickers and learn STEM skills in immersive ways never done before.
Meet Lilli and her best friends Leo and Bea - three endlessly curious kids with BIG imaginations. When they unite to solve a challenging science problem, they turn into SUPERHEROES Lillicorn, Leo Zoom and Bea Bumble and journey to a world full of magic, adventure and quests. And now they want YOU to join in the mission and the fun.
When Bea's robot B-bot malfunctions after installing new dance software, the three friends put their heads together and return to Questland as the SUPERQUESTERS to find a solution to their problem. Upon arrival, the trio discover that the evil Lord Grumble is wreaking havoc with his new Memory Machine, stealing memories from everyone, including the Queen of Questland. Adventure and excitement await as the friends work together to crack this latest case. Can you help them find Lord Grumble's Memory Machine and restore normality to Questland?
This unique interactive story with hands-on activities is expertly designed in line with the Key Stage 1 Computing, Maths and Science National Curriculum to help children develop their STEM (Science, Technology, Engineering and Mathematics) skills in innovative new ways. Children develop 12 STEM skills including problem solving, coding, sequencing and algorithms as they complete each interactive quest… and discover their inner superhero along the way.  Each book features over 100 reusable stickers including magical charm rewards and a reward chart to help children mark their progress and celebrate success. There's also a 'how to use this book' guide for grown-ups, and a glossary and answer page. See more at www.questfriendz.com
Reviews
Wendy
I love these Super Questers books! They are written to promote problem solving, reasoning and a love of STEM. The characters are engaging and diverse and the stories are interesting. I particularly like the fact that each quest is a separate chapter, with an interactive element at the end, using the stickers provided to help solve the problem. The illustrations are bright and engaging, with a cartoony feel but there is enough detail in the background to keep readers engaged.
The book is substantial as well - there are eight different quests in the overall story to work through so this will keep a 7-10 year old busy for a whole afternoon. As the pages are quite shiny it seems that the stickers can be peeled off and used again at a later date, which means the book could be shared with a sibling or re-visited more than once.
Not really a book for school, due to the interactive sticker element, but certainly an excellent addition to a bedroom bookcase or a great birthday/Christmas present for a junior scientist or engineer.
32 pages / Reviewed by Wendy Kelly, teacher
Suggested Reading Age 7+
Other titles