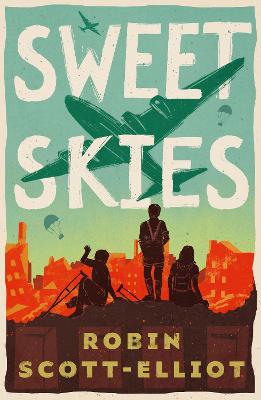 By Author / Illustrator
Robin Scott-Elliot
Genre
Historical Fiction
Age range(s)
9+
Publisher
Everything with Words
ISBN
9781911427322
Format
Paperback / softback
Published
06-07-2023
Synopsis
Berlin, 1948. A city besieged. A boy reaches for the sky...  Otto Hartmann would do anything to be a pilot. With Berlin blockaded by the Soviets and the Americans fly to the rescue, Otto's captivated by the matinee-idol pilots dropping chocolate for the city's hungry kids. But never mind the Hershey bars - he wants to be up there with them.  Now Otto has to choose between those he loves or flying from a ruined city where danger lurks around every corner; nobody is who they seem, and children are battling to survive in a desperate war-torn city.
Q&A with Robin Scott-Elliot: Find out how a story about a kindly American pilot helped inspire the story
Reviews
Jacqueline
Otto, Ilse and Karl live in the ruins of 1948 Berlin. The city is broken by the bombing at the end of the war and is now cut off from the West by the Russians. American and British planes have to fly food and supplies into the city to keep it going. The Americans throw sweets tied to little parachutes and the children get their first taste of American luxury. The children are all damaged, physically and emotionally, by what has happened, and yet they do not see themselves like that. They are the kings of the rubble and the masters of their own destiny, even when playing dangerous games with some extremely ruthless people.
Robin Scott-Elliot is a master historical storyteller, and his writing gets better and better. Sweet Skies is a nail-biting, edge-of-the-seat adventure, set in a historical period and place I know very little about. He entirely captures the tension of the Russian blockade, and the way the children view everything that has happened. The tension fills the story and I could not predict what would happen or how it was going to play out.
The cover by Holly Ovenden seems to capture the mood perfectly, the rubble and the darkness with brighter days ahead. It is also quite a sophisticated cover which does not look like the typical children's book cover. I would say this book is for slightly older children than some of Scott-Elliot's previous work; probably for 11+, due the dark nature of the subject matter and the violence, never graphic, but ever present.
Every one of Scott-Elliot's books has been a little bit different from the norm, covering history that was not necessarily mainstream, and every single one has been excellent. Sweet Skies is probably the best so far, but there aren't six stars for me to use.
288 pages / Reviewed by Jacqueline Harris, teacher
Suggested Reading Age 11+
Other titles