Teapot Trouble: A Duck and Tiny Horse Adventure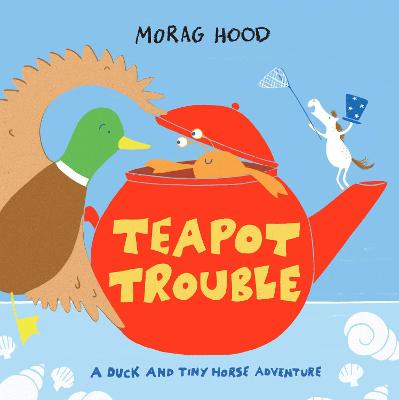 By Author / Illustrator
Morag Hood
Genre
Picture Books
Age range(s)
3+
Publisher
Pan Macmillan
ISBN
9781529026139
Format
Hardback
Published
03-02-2022
Synopsis
"It's a hoot." - The Sunday Times.   Perfect for reading aloud, Teapot Trouble is a warm and silly picture book that children (and adults) will find hilarious.

Something or someone is living inside Duck's teapot! Who are they? What do they want? How will we get them out? Never fear, for Tiny Horse is here! Tiny Horse has a trampoline. She has a magnificent hat. She has a stick of celery. What more could anyone need to save the day?

A laugh-out-loud story with a message about kindness, starring Duck and Tiny Horse, the brilliantly funny duo from Spaghetti Hunters, described by the Sunday Times as 'wacky and funny'.

Morag Hood is the award-winning creator of When Grandad Was a Penguin, The Steves and I Am Bat.
Reviews
Maria
Teapot Trouble is another fun and well structured story from the Duck and Tiny Horse Adventures. This time, something strange has happened to Duck's teapot and a crab has moved in! As always, never fear! as Tiny Horse, being the greatest solver of all problems, is on hand to help solve the issue. Armed with a picnic, celery, a magnificent hat, a trampoline and peas he sets off to help friend duck get their teapot back. But with no success. Until... Tiny Horse tries to solve the problem with an entirely unsuitable alternative teapot. While Duck isn't amused, Tiny Horse's attempt at helping does eventually save the day.
This is a great, humorous tale about the unlikely friendship between Duck and Tiny Horse. It demonstrates kindness, creativity and perseverance as the friends battle their way through solving the problem. Children will quickly be on board with the tale and be able to develop their empathy skills towards Duck and Little Horse throughout the story.
Additional to the text, the book has beautifully detailed and bold illustrations to engage any reader or listener, and to add extra context to the story. This would be a brilliant resource to support early years children with their development around friendships and working collaboratively.
Picture book / Reviewed by Maria Faithorn, teacher
Suggested Reading Age 3+
Other titles