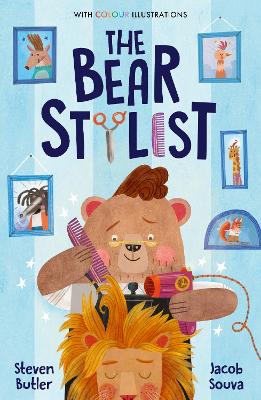 By Author / Illustrator
Steven Butler, illus Jacob Souva
Genre
Early Readers & Young Fiction
Age range(s)
7+
Publisher
Little Tiger Press Group
ISBN
9781788952521
Format
Paperback / softback
Published
12-05-2022
Synopsis
A range of simple stories for new readers, with beautiful colour illustrations.   Ludo comes from a long line of famous bear stylists. He loves giving his customers sensible haircuts, whether it's a tidy trim or a perfect perm.  Until Leonardo arrives in town. Soon Ludo's clients are having their feathers flapped and their curls combed by him instead.  But only one bear can be named Bear Stylist Supreme...  A charming celebration of creativity and teamwork.
Reviews
Maria
The Bear Stylist is another fantastic text in the brilliant Colour Illustration series of stories. These books are ideal for all children who are emerging readers and are confident with their phonics, sight reading and who are building up their speed and stamina whilst reading.
Ludo is a bear stylist, and part of the most famous bear-dressing family. With precision, perfectionism, and following the bear-dressers' code, he gives all his clients the exact cut that they ask for. From Horacio Bushwinkle's crimped bushy tail, Gregory Clawson's lion mane and Amelia Grubble's waxed whiskers to name a few, every client from day through to night is beyond pleased with the bear-dressers work. Until… there's a problem! A Leonardo Van Cropsalot, Bear stylist extraordinaire sized problem!
As more and more of Ludo's clients discover and try new, jazzy and crazy styles, Ludo refuses to break the code and continues offering his traditional cuts and somewhat boring styles. It doesn't take long, however, for a brave (unrequested) snip and some unusual styling for Ludo to discover that he, too, can create styles that his clients will love. But with two Bear Stylists claiming to be the best, who will be crowned Bear Stylist Supreme?
The Bear Stylist, with its fun and trendy-looking front cover, will engage children from the start right through to the end. After all, who doesn't love the idea of a bear styling your hair!
96 pages / Reviewed by Maria, teacher
Suggested Reading Age 7+
Other titles