The Big Book of 100 STEM Activities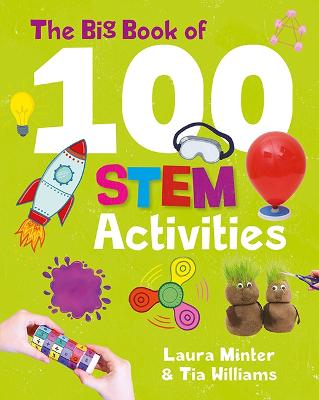 By Author / Illustrator
Laura Minter, illus Tia Williams
Genre
Non Fiction
Age range(s)
5+
Publisher
Button Books
ISBN
9781787081253
Format
Paperback / softback
Published
07-11-2022
Synopsis
The Big Book of 100 STEM Activities is a bumper book of boredom-busting ideas for fun and educational things to do for curious kids and their grown-ups. Developing an awareness of STEM themes from an early age is hugely important and encourages kids to be curious about their world and want to engage with it. This jam-packed collection of fun and simple activities introduces ideas and themes based on science, engineering, technology and maths in an accessible and stimulating way.  You can learn about kinetic and potential energy while building an awesome marble run, why your breakfast cereal is magnetic, how to use gravity to make art and even how to grow yucky mould or make stinky slime in the name of science.
Using crafts, play and simple experiments, these activities are presented in an easy-to-follow format and make use of everyday materials that you'll find around the home. Each activity provides a simple explanation of how it works and what the takeaway key STEM points are. Fill those rainy days and school-holiday downtime with things to do that are so much fun, the kids won't even realise that they are learning at the same time!
Reviews
Jenny
The Big Book of 100 STEM Activities is such a brilliantly appealing non-fiction book from publisher Button Books. The pairing of Laura Minter and Tia Williams has created a really fun and engaging set of science experiments to entertain and learn from. From a vibrantly illustrated front cover to page after page of interesting and clearly explainable instructions, the whole book is quite luxurious-looking, with glossy large photographs and boldly coloured chapter dividers.
A full A4 page at least for each experiment means the instructions are clearly laid out and easy to follow step by step. I particularly like that each experiment is documented with photographs of the various stages (as well as some illustrations) so any young scientist can see exactly what they are aiming for in the activity . Every activity also features a 'STEM know-how' section, all brightly marked out, to concisely explain the science behind the fun task so that there is clear learning and knowledge to be gained when carrying out the experiments and children learn the 'why' and 'how' behind each one.
The contents are split into topics such as Chemical Reactions, Bodies and Bones, and Matter and Molecules, to name a few. This really helps when looking through the book if you want to focus on using just one section and investigating one scientific area at a time. The Matter and Molecules section is the one I will be using next in school - with experiments such as Tin Can Ice Cream, creating a Mini Galaxy from sunflower oil and paint, and making frozen suncatchers.
With 100 exciting, simple and creative experiments and activities to try, this is a fantastic book for active young brains and hands to have a lot of really fun learning with. The Big Book of 100 STEM Activities will be a great addition for our school science lessons as well as at home!
152 pages / Reviewed by Jenny Caddick, teacher
Suggested Reading Age 5+
Other titles