The Big Book of Festivals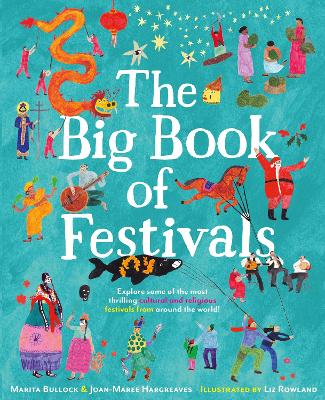 By Author / Illustrator
Joan-Maree Hargreaves, Marita Bullock, Liz Rowland
Genre
Non Fiction
Age range(s)
7+
Publisher
Faber & Faber
ISBN
9780571370221
Format
Hardback
Published
01-02-2022
Synopsis
Explore some of the most thrilling cultural and religious festivals from around the world! From Diwali, the Indian festival of light, to the Spanish tomato-throwing festival La Tomatina, to the Belgian Festival of Giants, this book is the perfect introduction to some of the world's most incredible cultural and religious celebrations. 
Exquisitely illustrated by Liz Rowland, every page is packed with fascinating fun filled facts! Some festivals are outrageously joyful, others are more serious. All of them bring people together to mark the big events in life. So dive into this riotous explosion of colour as we feast, sing, cry and celebrate the diversity of festivals and traditions this wonderful world of ours has to offer.
'Gorgeous.' Reading Time  'Perfect for young children . . . to introduce them to diverse celebrations and cultures.' Read Me Another Story 
Reviews
Sharon
This non fiction book, The Big Book of Festivals, is a great introduction to the world's cultural and religious festivals. It gives a brief history of the festival followed by details of when and where the festival takes place. There are descriptions of interesting facts or features of the festival on each double page spread and there is also a character with an arrow pointing to them. This character is listed at the front of the book to look out for and their own experience of the festival is described- a nice human touch.
Liz Rowland's illustrations are beautiful. They detail the dances, clothes, food and gatherings of the people celebrating each festival. They really add to the text. My class particularly loved the Whirling Dervishes Festival pages. The contrast between the traditional costumes and more formal attire captured their imagination for some reason. They had great fun trying to re-create the dance during playtime!
The Remarkable Regional festivals section is really interesting; seeing how particular towns or cities around the world celebrate their events is an eye-openers. This book was really useful for our work on Peace Mala due to its inclusion of many smaller festivals. It opens one's eyes to other festivals apart from those of the major religions. I would be happy to use it with children aged seven and above.
Suggested Reading Age 7+
Other titles