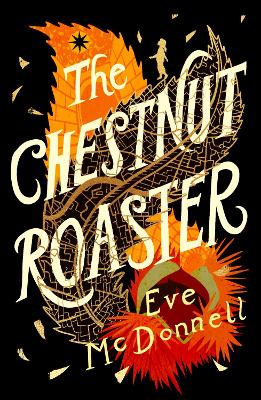 By Author / Illustrator
Eve McDonnell
Genre
Historical Fiction
Age range(s)
9+
Publisher
Everything with Words
ISBN
9781911427292
Format
Paperback / softback
Published
27-10-2022
Synopsis
From the acclaimed author of Elsetime, shortlisted for the Awesome Book Award, a magical and thrilling adventure.  "Starting on All Fools Day, twelve years ago, I remember everything. EVERYTHING. That was a wet Saturday, and that was the day I was born."
12-year-old Piaf has the ability to (and burden of) remembering everything that has happened since the day she was born. When she discovers everyone in Paris has forgotten the entire last year, 1887, including the disappearance of several gifted children, Piaf and her twin brother Luc embark on a dangerous journey that brings them to the depths of Paris's underground twin, the Catacombs, to capture the memory thief and find the lost children.
THE TIMES Book of the Week: 'The Chestnut Roaster by Eve McDonnell is an Unforgettable Paris adventure... McDonnell has created a captivating, if dastardly, world. With the help of Ewa Beniak-Haremska's atmospheric illustrations, she ensures the jeopardy remains high as the children crawl through Paris's catacombs to try to catch the memory thief. Fantastique!'
Find out more in this video by Eve McDonnell
Reviews
Jacqueline
Piaf (Sparrow) is a chestnut roaster in Paris in the 1800s whilst The Eiffel Tower is just being built. Piaf is blessed (or is it cursed?) with total recall of every event in her life. There is something dangerous lurking in the background; 20 gifted children have disappeared, and Piaf's own brother is in hospital with a mysterious ailment. Even more strangely, everyone except for Piaf seems to have forgotten an entire year. Piaf and Luc have to find out what is going on as they run for their lives into the underground world of the Parisian Catacombs and see if they can find out what has happened to make everyone forget.
I loved Elsetime, Eve McDonnell's previous book, so I was looking forward to this one. Eve McDonnell somehow makes magical and strange things set in the past completely believable. In her new book, The Chestnut Roaster, I was drawn into the Parisian world of 1888, and the extraordinary events never once jarred with reality. I loved Piaf, tiny and full of self-doubt, growing throughout the book in many ways. She is a wonderful character.
The adventure is told at breath-taking speed with vivid description that entirely brought it to life. It has every element to make it a great story - Paris, a heroine you can root for, an amazing underground world and a very scary villain. The double page picture spreads by Ewa Beniak-Haremska add to the mysterious quality of the story perfectly and they are another highlight in a book full of highlights. They are pictures to spend time over, looking at the detail and then reading about each one at the back of the book.
The Chestnut Roaster is a wonderful, strange, semi-historical, part fantasy story that refuses to be put into boxes, rather like its heroine.
334 pages / Reviewed by Jacqueline Harris, teacher
Suggested Reading Age 9+
Lorraine
'Strange things are happening in Paris. Gifted children are disappearing and Piaf's twin brother Luc has forgotten everything, even his family. Piaf is the opposite and remembers everything, from the day she was born to the tiny detailing on someone's coat. Manning their chestnut roasting cart one day, a strange man tries to abduct Piaf. Given a clue by the thin girl chained to his arm, it is not long before circumstances change again and suddenly their mother and friends have forgotten the year. Piaf and Luc are soon running for their lives and trying to solve the mysteries of Paris, but will they succeed before they too disappear?
The Chestnut Roaster is a strange tale that creeps up on you and sucks you into the depths of Paris. Peppered throughout with scratchy black and white illustrations that match Piaf's dishevelled and dirty appearance, the book starts slowly, introducing Piaf and the mechanisms she has developed to cope with constant, overwhelming memories. I found this slightly confusing at times as it diverts the reader from the plot and scenes, but perhaps that is the point.
As the author points out at the end of the book, distraction is used by people suffering from this rare, real condition. Once established, however, the book comes into its own and suddenly the pace and mystery take off, to intrigue and compel the reader to turn the page. Littered with historical and physical references of Paris I found myself enjoying the characters and connections. A true mystery, with intricate details and a map, the action is fast-paced and ever changing, slowly revealing all. Piaf's character is likeable and defiant, as is the love between the twins and their mother.
The ending does feel slightly rushed but not to the detriment of the book overall. Chapters are fairly short but I feel reluctant readers may find the French names and references too much. Having said that, this could be a good book for reading groups as there is much to discuss and a lot can happen in a short space of time.
334 Pages / Reviewed by Lorraine Ansell 
Suggested Reading Age 9+
Other titles