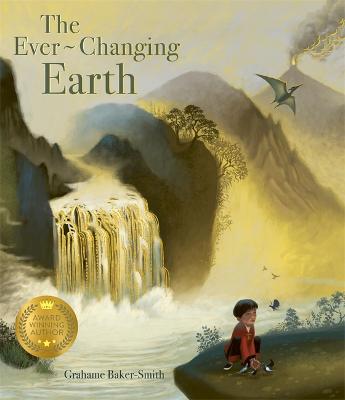 By Author / Illustrator
Grahame Baker-Smith
Genre
Non Fiction
Age range(s)
7+
Publisher
Templar Publishing
ISBN
9781800782327
Format
Paperback / softback
Published
26-10-2023
Synopsis
Greenaway award-winner Grahame Baker-Smith guides readers on an unforgettable journey through our Earth's incredible evolution, discovering the planet's forgotten creatures, buried oceans and frozen layers.

A small boy imagines life on Earth when dinosaurs ruled, and the sky boomed with the wild beat of pterosaur wings. Then an asteroid fell, changing the world forever. If Kun could go back further in time, he would witness an even bigger collision, when the young Earth was struck by another planet creating our companion moon...

Following on from The Rhythm of the Rain and Wild is the Wind, Kate Greenaway award-winner Grahame Baker-Smith explores our ever-changing planet in this beautifully illustrated paperback edition.
Reviews
Maria
WOW! This is the newest book by Grahame Baker Smith and tells the story of the earth from the dinosaurs to today and how the earth has changed and continues to change.
The illustrations are magnificent, almost photographic, and support the text and the concept of the book, allowing the reader to become immersed in the book, learning more and questioning each step of this amazing journey.
This book is for readers aged seven years plus and is a perfect book to support Science, Geography and History work. A book to be read over and over again, gaining more understanding of 'The Everchanging Earth'.
40 pages / Reviewed by Maria, teacher
Suggested Reading Age 7+
Other titles