The Glass Slipper Academy (Fairytale Ninjas, Book 1)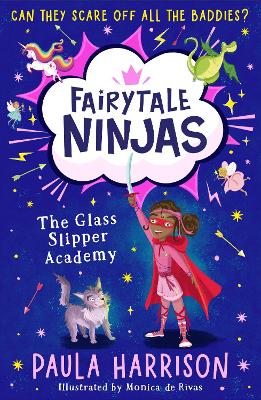 By Author / Illustrator
Paula Harrison
Genre
Fairy Tales & Folk Tales
Age range(s)
7+
Publisher
HarperCollins Publishers
ISBN
9780008582944
Format
Paperback / softback
Published
30-03-2023
Synopsis
Jump into a thrilling new series about fairy-tale heroines, ninja moves and epic adventures in this debut book perfect for children aged 5+
CAN THEY SCARE OFF ALL THE BADDIES?  Nothing very exciting EVER happens in the town of Hobbleton. Then Red, Snow and Goldie are trained up as fairytale ninjas, and find that anything is possible...  When Madame Hart is accused of taking Prince Inigo, the fairytale ninjas are sure that she isn't behind the kidnapping. Can they use their new-found skills to catch the real villain? Or will their ballet teacher stay banished forever?
Reviews
Amanda
Fairytale Ninjas is the amazing concept of Paula Harrison. Before launching a successful writing career, Paula was a Primary school teacher. Her years teaching taught her what children like in stories and how they respond to humour and suspense which she uses to great effect in this wonderful early chapter book.
In the fairytale world of Waybeyond, Red, Snow and Goldie are trained up as fairytale ninjas and are tasked with using their new-found ninja skills to help track down the villain who has kidnapped their ballet teacher. 
The Glass Slipper Academy (Fairytale Ninjas) is a beautiful story filled with imagination, strong characters and problems to solve. At the beginning of a book there is a map allowing you to visualise the location of the different parts of the story. The illustrations by Monica de Rivas bring the careful descriptions to life helping children to immerse themselves in the joy of this story.
This wonderfully written book is sure to develop many young people's love of reading. It would be a perfect end of the day classroom read or an independent reading book for those just starting to read chapter books. I am excited to see what Paula writes next.
128 pages / Reviewed by Amanda Shipton, teacher
Suggested Reading Age 5+
Jen
A highly illustrated chapter book combining some of our well know fairy tale heroes in a new way. Goldie, Red and Snow live in Hobbleton - a most unmagical place. All Red longs for is adventure but the signs around the town tell them never to leave. All the girls have for entertainment is their ballet class. This is until the girls discover a secret hidden behind the mirrors in the ballet studio. Is Madame Hart hiding a something? A book children will be reading by torch light as they can't wait to find out what happens next.
Suggested Reading Age 7+
Other titles