The Lost Puppy (Dotty Detective, Book 4)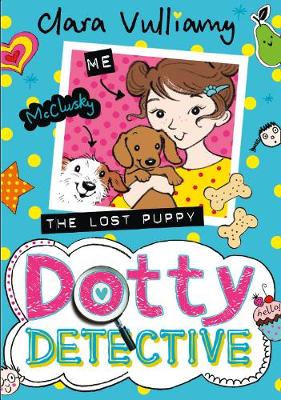 By Author / Illustrator
Clara Vulliamy
Genre
Adventure
Age range(s)
7+
Publisher
HarperCollins Publishers
ISBN
9780008248376
Format
Paperback / softback
Published
27-07-2017
Synopsis
Dot, her best friend Beans and her dog McClusky all love sniffing out a good mystery and together they will solve the case and save the day . . .
It's the last week of school term and the children are looking forward to the School summer fair. Dotty and best pal Beans will be looking after pet's corner, starring McClusky and his two canine pals: Geoffrey and the little sausage dog puppy, Chipolata. But just days before the fair disaster strikes - Chipolata has gone missing.
Dotty and Beans get on the case. Can they solve the mystery of the missing puppy?
Reviews
Lauren
This is the fourth book from the Dotty Detective series, in which Dot leads the case in finding Chipolata, the missing puppy. Dot, her dog McClusky and her best friend Beans have their own detective agency, Join the Dots Detectives, and it is their job to work out where their friend Joe's puppy has vanished to! The story is centred on the school's Summer Fair in which Dot's class are leading the Pets Corner, with a variety of interesting animals! It is during the week when Dot is being picked up from school when her friend Joe's new puppy Chipolata has gone missing! All that is left is her lead and collar, still attached to the gate. Dot, with the help from her friends, go on the hunt for Chipolata and using her detective skills she thinks she is on to something. It isn't until she realises McClusky is behaving strangely that he could be the key to solving the crime! The book was really easy to read and well put together. These would be great for children who are starting to gain more independence in their reading as the text is really clear and simple. The mix of photographs, illustrations and fast paced story is eye catching for readers. Ideal for year 3 and 4 children. 138 Pages/ Ages 7+ / Reviewed by Lauren Maidman, school librarian.
Suggested Reading Age 7+
Other titles