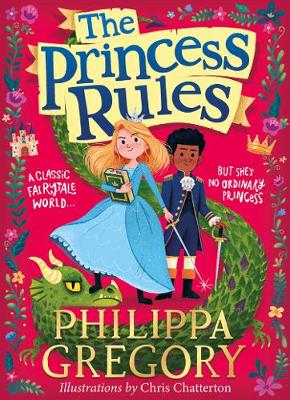 By Author / Illustrator
Philippa Gregory, Chris Chatterton
Genre
Fairy Tales & Folk Tales
Age range(s)
7+
Publisher
HarperCollins Publishers
ISBN
9780008375485
Format
Hardback
Published
14-11-2019
Synopsis
Princess Florizella may live in a classic fairy-tale world, but she's no ordinary princess...  These three stories were originally published under the titles Princess Florizella, Princess Florizella and the Wolves and Princess Florizella and the Giant.  They were originally dedicated to the author's daughter but have been reimagined in this edition which she has dedicated to her grandchildren.
"Princess Florizella was friends with some of the princesses who had studied the Princess Rules, and behaved just as the Rules said they should. Florizella thought their hair was lovely: so golden and so very long. And their clothes were nice: so richly embroidered. And their shoes were delightful: so tiny and handmade in silk. But their days bored her to death..."
Instead, Princess Florizella rides her horse, Jellybean, all over the kingdom, having adventures of her own...
"...perfect for newish readers who are gaining confidence and ready for a challenge" The Times Review  "These are enchanting, simply written stories that have lost none of their pertinence - and this timely new edition deserves to win Florizella another generation of admirers." 5 star review in the Saturday Telegraph
Reviews
Lauren
The Princess Rules is a collection of Princess Flroizella stories from Phillipa Gregory. The collection of three stories; Princess Florizella, Florizella and the Wolves and Florizella and the Giant, introduce you in the brilliant Seven Kingdoms and the rather rebellious Princess. Wherever Florizella goes, trouble follows!
Florizella isn't like normal princess - and doesn't like 'The Princess Rules' so she doesn't follow them, she doesn't abide by them and definitely doesn't have time for them. Her mother and father (the King and Queen) just want Florizella to marry a prince and live happily ever after; Florizella just wants to ride her horse, Jellybean, and do what she wants. Until she meets Prince Bennet. Florizella doesn't want to marry him so they decide to be just friends and go on adventures together, involving all manner of situations including a pack of baby wolves and a giant called Simon.
I love the Princess Florizella stories, they are witty, charming and funny. Each character is brilliantly written and I could imagine them all in my mind, they little quirks and the way the King and Queen say 'undootedtly'. Each story is cleverly written and the stories are simple and easy to follow but with plenty of action.
I would highly recommend this book to both girls and boys, especially those who like humour and are just starting to read chapter books for the first time. I look forward to sharing this with my class and I am glad I got to read this!
250 pages / Reviewed by Lauren Maidman, teacher
Suggested Reading Age 7+
Other titles