The Race to Space: From Sputnik to the Moon Landing and Beyond...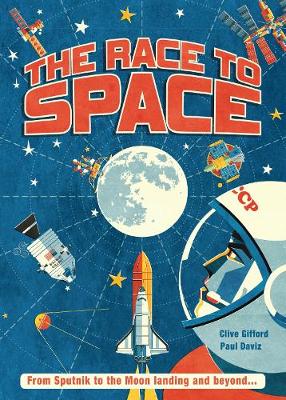 By Author / Illustrator
Clive Gifford, Paul Daviz
Genre
Adventure
Age range(s)
9+
Publisher
Frances Lincoln Publishers Ltd
ISBN
9781786038890
Format
Hardback
Published
23-05-2019
Synopsis
You know that man has walked on the Moon, but do you know the story of how he got there? With the 50th anniversary of the Moon Landing on 20th July 2019, this book celebrates the Space Race rivalry between the US and the Soviet Union. Readers will learn about the neck-and-neck race between the two superpowers, through an illustrated story of the rivalry that gripped the world. From Russia's first satellite, Sputnik, to Neil Armstrong planting a US a flag on the moon, discover the events that unfolded through amazing nostalgic illustrations and engaging text. Explore, too, how these two space agencies now work together, and how the monumental achievements of the space race have created world-changing technology that we all use and benefit from today.
Reviews
Kristen
The Race to Space is a non-fiction book about the race between the US and the Soviet Union to send the first human into space. The book contains fantastic illustrations by Paul Daviz that really bring the words to life. It begins with a history of rockets and how the Soviet Union and US came to be 'superpowers' following World War II. It then continues by focusing on two engineers from the superpowers and their role in space exploration. As well as covering the more well-known 'space race' facts, it also includes a number of lesser-known facts: for example, the identity of the engineer who designed Sputnik was a secret at the time; and the US sent fruit flies into space in 1947 (before Laika the dog!). Whilst going through the timeline of humans that have been into space, it also includes quotes from the astronauts and cosmonauts. A lot of technical information is included in the book, but it is explained really well so that it will be accessible to children. At the end of the book, there is a timeline of space exploration from 1926 until 2020, including a couple of future events. This book would make a fantastic addition to a classroom for a space topic. It could be used for research purposes or guided reading sessions. Children could create their own fact file using the myriad of information within the book and also use the amazing illustrations for inspiration for their own drawings. 64 pages / Ages 9+ / Reviewed by Kristen Hopwood, teacher
Suggested Reading Age 7+
Other titles